30th Anniversary of Viet Nam-Korea Diplomatic Relations
---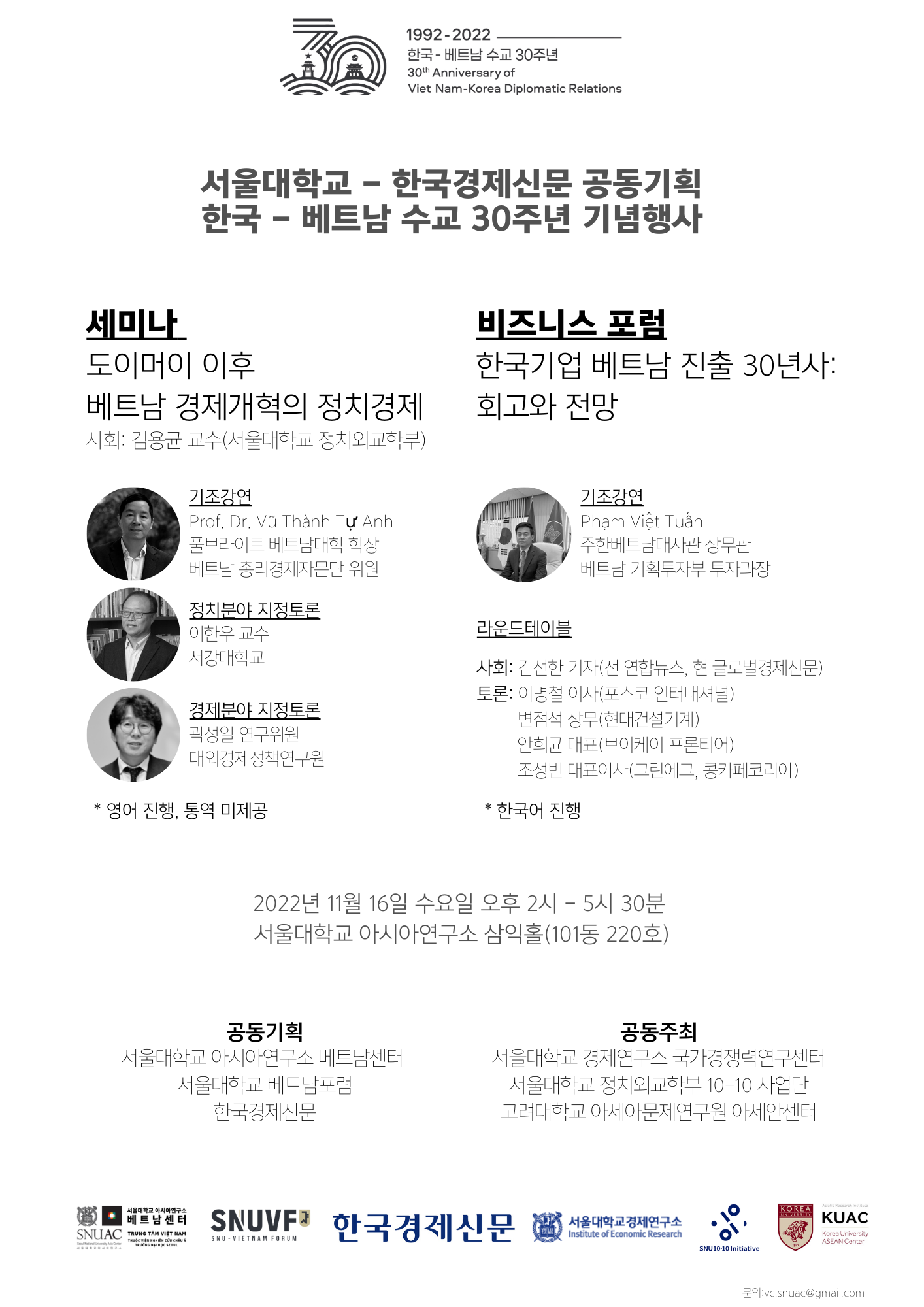 Date: November 16th, Wednesday, 2022, 14:00 – 17:30
Location: Samick Hall (Room 220), SNUAC (Bldg. 101)
---
SNUAC Vietnam Center is holding an event to commemorate the 30th anniversary of Vietnam-Korea diplomatic relations jointly with the SNU Vietnam Forum, The Korea Economic Daily, SNU Institute of Economic Research, the SNU 10-10 Initiative at Dept. of Political Science & International Relations, and Korea University ASEAN Center.
The event consists of session 1, the seminar, and session 2, the business forum. The seminar will be an academic discussion on "The Political Economy of Vietnamese Economic Reform After Đổi Mới". The keynote speaker will be Prof. Vu Thanh Tu Anh, the dean of Đại học Fulbright Việt Nam and a member of the economic cabinet for the Vietnamese prime minister. Prof. Tu Anh is a scholar who received his Ph.D. in economics in the U.S. in the 1990s with Đổi Mới as the main topic and is renowned in both academia and the field as an authority in Vietnamese market reform. Following the keynote speech, Prof. Hanwoo Lee (Sogang Univ.) will discuss the political aspect, and Sung Il Kwak (Korea Institute for International Economic Policy) will discuss the economic aspect. The center expects these experts to provide precious insights into the political and economic aspects of Vietnam's high growth. The first session is to be held in English, without interpretation.
Session 2 business forum will be carried out by Sunhan Kim, who had lived in Hanoi for a long time as a correspondent of Yonhap News and even received the Order of Friendship from the Vietnamese government. The keynote speaker is Pham Viet Tuan, the commercial attaché of the Vietnamese Embassy in Korea. Mr. Tuan has been stationed in Korea long term and is recognized by Korean entrepreneurs as an expert on investment advancing into Vietnam. Following the keynote speech, there will be a roundtable for businesspeople who are at the spearhead of Vietnam and Korea's economic exchange. Myung Chul Lee (Director, POSCO International), Jeomsuk Byun (Director, Hyundai Construction), Heekyun Ahn (CEO, VK Frontier), and Sungbin Cho (CEO, Green Egg, Kong Cafe Korea) will participate in the roundtable talk. These businesspeople have invested in Vietnam, each at a different time and area. We look forward to these participants providing productive discussion on the Korea-Vietnam economic relations based on their experiences. The second session will be held only in Korea, without interpretation.