What is Local Immigration Policy?
---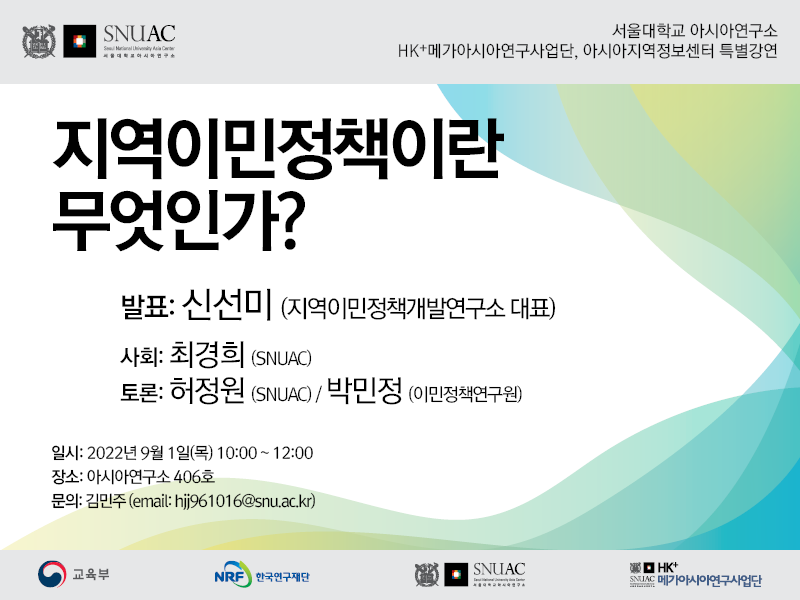 Date: September 1st, Thursday, 2022 10:00 – 12:00
Location: Room 406, SNUAC (Bldg. 101)
---
As one of the next research topics discussed by the HK research project group, 'migration and immigration' is considered important. It seems quite important at this point to invite an expert on migration for a lecture. Especially when migration and immigration policy is discussed as an alternative in Korea for the extinction of provinces and the demographic cliff, it will be an opportunity for us to discuss immigration policy more in-depth if we talk about the policy not in terms of 'central government' but 'regional economy and regional government'.
Most of all, if the study on Mega-Asia was approached externally in terms of 'Asia outside Korea' in stage I, the stage II research is being conceived as 'Korea and Mega-Asia', which could be approached internally as 'Asia within Korea'. We could consider Asians of various nationalities living in Korean society from a migration-immigration point of view for Mega-Asia research.
Presentation: Sunmi Shin (Director, Institute on Local Immigration Policy and Development)
Moderator: Kyunghee Choi (SNUAC)
Discussant: Jungwon Huh (SNUAC) / Minjung Park (Migration Research & Training Centre)