Smart Cities in South Asia – Structure and Directions
---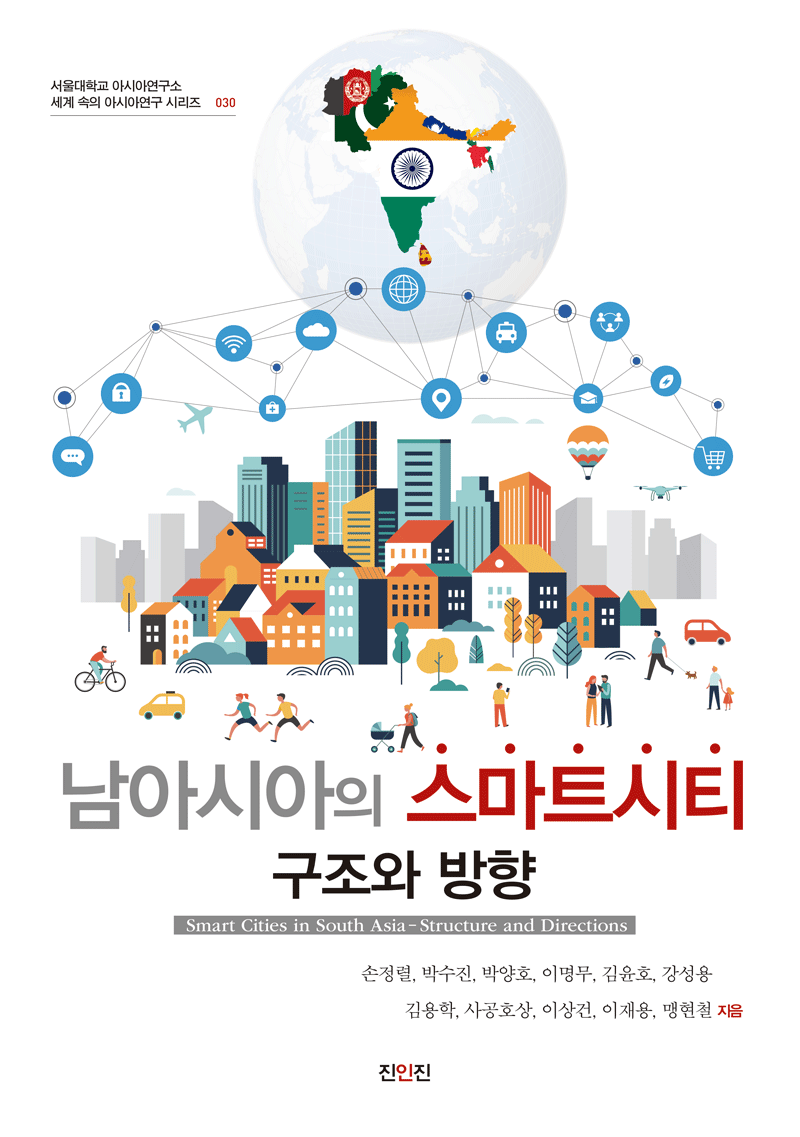 Authors: Jungyul Sohn, SooJin Park, Yang Ho Park, Myungmoo Lee, Yun Ho Kim, Sungyong Kang, Yonghak Kim, Ho Sang Sakong, Sang Keon Lee, Jaeyong Lee, Hyun Chul Maeng
Publication Date: June / 2022
Publisher: Zininzin
A monograph that studies the developmental vision and policy of smart cities as a global urban trend today focusing on the South Asian region has been published as the thirtieth book in SNUAC Asian Studies in a Global Context Series:  Smart Cities in South Asia – Structure and Directions.
A smart city is a form of city that uses cutting-edge smart technologies such as IT, environmental technologies, AI, and big data in responding to basic needs in life, and envisions solving various problems of urbanization and more comfortable, safer, and eco-friendly urban life. India, which is the direct object of study in this monograph, has been pursuing an ambitious developmental policy to construct 100 smart cities since 2015, and the vision suggested here will be the new standard for pursuing smart cities in South Asia inhabited by a population of 1.8 billion.
Smart Cities in South Asia – Structure and Directions is an exemplary case that presents a new direction for multidisciplinary research combining humanities, social sciences, and engineering, as it pursued consistent research around smart cities based on the regional characteristics of South Asia. The 11 chapters authored by 11 experts in each field including geography, information science, urban planning, and business administration have summarized the knowledge and information needed for pursuing smart cities based on the understanding of the latest theories and accurate recognition of reality.
The book consists of two parts: the first part introduces smart cities, three chapters examine the concept of smart city, the change of smart city policy paradigm in Korea, developmental trends of smart cities in major countries around the world, and important consideration points. Also, there is an introduction to the current status of smart city strategies in major countries in South Asia, which is the main part of this book. The second part of this book consists of eight chapters that explore phenomena such as the IT industry, AI, 4IR, urbanization and smart city mission, fab lab, living lab, education, political and social contexts, traffic, spatial information, Korea-India partnership, etc.
Smart Cities in South Asia – Structure and Directions targets its readers to be public servants, executives and staff members of state-owned and private enterprises, members of civil organizations, and researchers, and seeks to be utilized in supporting smart city development for South Asian countries and establishment of economic cooperative models.