The 11th KOSSDA Data Fair
---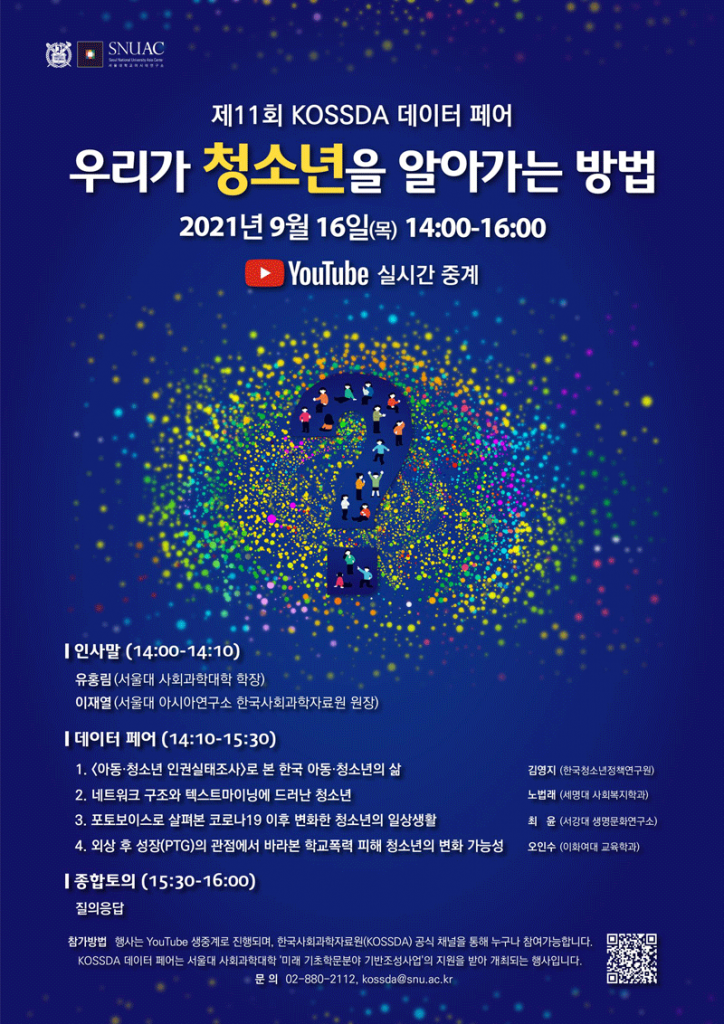 Date: September 16th, Thursday, 2021 14:00 – 16:00
Online via YouTube
---
Korea Social Science Data Archive (KOSSDA) is holding the 11th Data Fair with the theme <The Way We Learn About Teenagers> on September 16th. Data on 'teenagers' are among the most utilized data through KOSSDA's download service. Teenager studies are being diversified beyond traditional education or growth and development, into happiness, human rights, and violence at school. Therefore, methodologies strive to contain the reality of teenagers.
We hope this Data Fair to be an opportunity for us to reflect on the way we define teenagers in teenager studies, how we approach them, and derive research results. If we put teenagers in the center, we need an acknowledgment that our research is one of the many diverse ways to get to know them.
We have a total of four presentations being delivered at the Data Fair. First, the National Youth Policy Institute will utilize time series data to show the human rights and lives of Korean children and teenagers. The two presentations that follow will deal with new methodologies on teenagers, and the last presentation will discuss victimized teenagers of school violence from the perspective of post-traumatic growth.
We welcome all who are interested.
1. Younggi Kim (Research Fellow, National Youth Policy Institute)
2. Insoo Oh (Ewha Womans University College of Education)
3. Beop-rae Roh (Dept. of Social Welfare, College of Social Sciences, Semyung University)
4. Yoon Choi (Sogang University Institute for Life and Culture)
• This event will be live-streamed on YouTube for the prevention of COVID-19. Anyone can participate through KOSSDA's official YouTube channel (https://www.youtube.com/channel/UCAxVzsA-BPU8ociSBIWkeDQ).