"Global Capitalism and Culture in East Asia" Receives the 2020 National Academy of Sciences' Outstanding Book Prize
---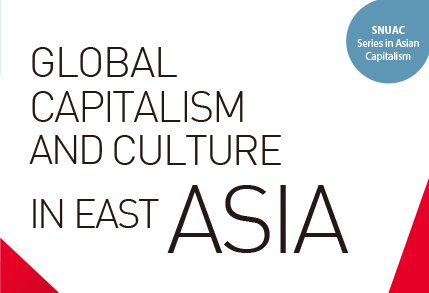 Global Capitalism and Culture in East Asia has received the 2020 National Academy of Science's Outstanding Book Prize.
Global Capitalism and Culture in East Asia, a book written by Hyun-Chin Lim, director of the Civil Society and NGOs Program and a professor emeritus at SNU, and Jonghoe Yang, professor emeritus at Sungkyunkwan University, has received the 2020 National Academy of Science's Outstanding Book Prize. This book explores a more specific set of issues regarding this tripartite relationship in East Asia. The papers in this volume encompass a wide range of issue areas, cases and methodologies, which would open up new research agenda as well as new insights on this important topic.
---
Jonghoe Yang
Jonghoe Yang is Professor Emeritus in the Department of Sociology, Sungkyunkwan University, Seoul, Korea. He was president of the Korean Sociological Association in 2005. He published both books and articles on such topics as development and change, sociology of culture and art, environmental consciousness, and middle class. His recent publications include Development, Class, and Culture: Aspects of Socio-Cultural Change in Modern Korea (2012, Green), and Citizenship and Migration in the Era of Globalization (co-editor, 2013, Springer).
Hyun-Chin Lim
Hyun-Chin Lim is Professor Emeritus of Sociology and Founding Director of Asia Center at Seoul National University. He is an elected member of the National Academy of Sciences, Republic of Korea. He is also an Adjunct Professor of Asian-Pacific Studies Institute at Duke University. He received his B.A. and M.A. in Sociology from Seoul National University, and his Ph.D. in Sociology from Harvard University. He taught and researched at Harvard, Chicago, University of California (San Diego), Duke, Paris Diderot, Free University of Berlin, and Vietnam National University (Hanoi), and Jilin University. He has received a number of honors, including Harvard-Yenching Fellowship, Fulbright Fellowship and National Distinguished Scholar Fellowship. He was an editorial writer for Hankook Daily and a consultant at World Bank. He was previously the dean of Faculty of Liberal Education, the dean of the College of Social Sciences, and the founding director of Asia Center, all at Seoul National University. He worked as a member of the Executive Council, Society for the Advancement of Socio-Economics. He also served as the president of professional associations including Korean Association of NGO Studies, Korean Sociological Association, International Development and Cooperation Association, Korean Association for Political Society, and Korean Social Science Research Council. In addition, he has been active in leading civil society in Korea working as a Co-Chair for Citizens' Coalition for Economic Justice and for Citizens' Coalition for Scientific Society.