Evolution of Production Networks in Asia: Comparative Advantage and Labor Share
---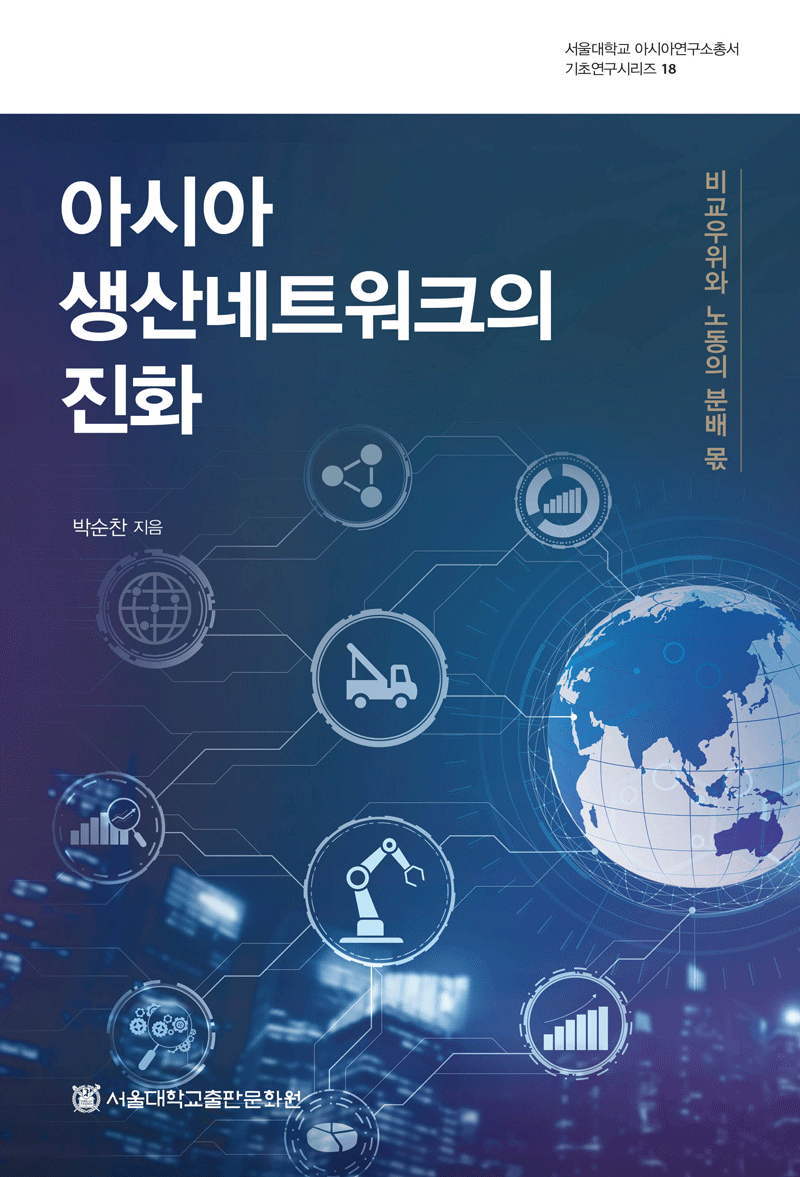 Author: Soonchan Park
Publication Date: May / 2020
Publisher: SNU Press
What does the evolution of production networks in Asia say?
As trade cost becomes reduced due to the progress of globalization and the development of information technology, the production process is divided, forming a global production network that is dispersed across the world, which leads to higher mutual dependence among countries. Especially, as the Asian region rises as a global factory, there is a larger interest in the role of Asian countries in the global production network. The purpose of this book is to understand how the production networks in Asia have changed and to analyze the economic ripple effects produced thereby. As the production and division of commodities and services and the organization of production change due to the formation of global production networks, their ripple effects are also very widespread. This book focuses on the global production networks, comparative advantage, labor share, and the trade creation effect of Regional Trade Agreements.
Author: Prof. Soonchan Park received his master's in economics from Saarland University and his doctorate from the University of Munich in Germany. He worked as the team manager for FTA at Korea Institute for International Economic Policy (2001-2005), and now works as a professor at the School of Economics and Commerce (Major in International Trade and Commerce) at Kongju National University. He has co-authored various books including The impact of cumulative rules of origin on trade costs (Korea Institute for International Economic Policy, 2017) East Asian Economic Integration(Cengage Learning, 2015), and The Great Recession and Import Protection(World Bank, CEPR, 2011). His major paper publications include "Institutional Economic Integration between South and North Korea and the Economic Impacts of Integration"(Asian Economic Journal, 2018), "Formation of Interdependent Regional Trade Agreements and Production Networks"(The World Economy, 2017), and "Trade Facilitation Provisions in Regional Trade Agreements: Discriminatory or Non-discriminatory?"(East Asian Economic Review, 2016).