Global Media and Asian Identity: Beyond Cultural Hybridity and Cultural Resistance
---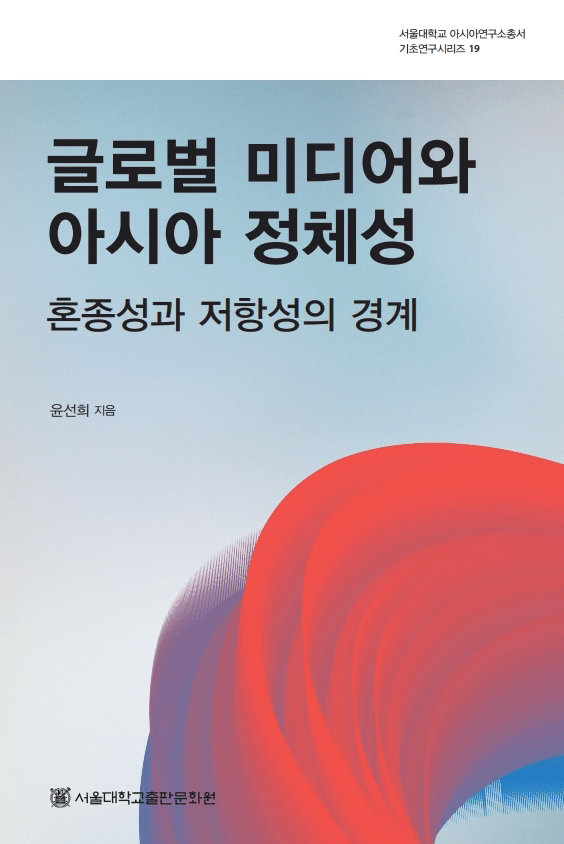 Author: Sunny Yoon
Publication Date: April / 2020
Publisher: SNU Press
The book discusses Asian identity from a new perspective. Asia is the largest category in the world and also diverse and contesting category that has never been agreed upon what in any time in history. Asian identity has been frequently promoted when criticism against Western civilization is bring up, and capitalist contradictions raise problems, or communal activities are attempted different from individualist or market driven activities. It can be good catchphrase to promote revival of Asian identity, but it has never been grounded what the real Asian identity is. Siding on post-structuralist theories, this book approaches to Asian identity from the empirical ground which is practiced and spoken in daily lives of the people. Media reception illustrates mundane but a realistic picture of lives of the general people. The study focus goes to cultural practice and meaning making of the people in various contexts, ie nations, ethnic and demographic variety. Despite the difference in motivations and cultural preference, audiences in different backgrounds concur to mention Asian value in their cultural choices while they interpret Asian value differently on their own terms. This work is based on field research that I have been done in different countries in Asia and Europe with regard to reception of Korean media and pop culture in the context of changes in global media-scape and technological development in addition to cultural environments. The organization of the book consists of first theoretical context and issues with regard to changes of global communication structure, emerging importance of Asian media and new patterns of media reception and then theorizing results of field research that I have done with audience studies of Korean media and K pop in different nations and cultural groups.
Table of contents
Part 1. Globalizing Korean media and Asian identity
Chapter 1. Korean wave and Asian Identity
Chapter 2. Theories of Asian identity and Media reception
Part 2. Asian Identity and Media ideology
Chapter 3. Nationalism, Korean drama and Asian audiences.
Chapter 4. K-pop in Western Europe and anti-Racism
Chapter 5. Girl Group, Asian femininity and K-pop fandom
Part 3. Post-socialism and soft power of Korean media
Chapter 6. Korean wave in Eastern Europe and Korean dream
Chapter 7. Korean wave in North Korea and social changes
Part 4. Clash of civilization, religious conflicts and Korean media
Chapter 8 K-pop in Indonesia and religious, cultural conflicts
Chapter 9. Soft terror and soft power of Korean media in France
Author: Dr. Sunny Yoon is a professor of media and communication at Hanyang University in Seoul. She publishes youth culture, cinema, and audience studies in major academic journals both nationally and internationally. Recently she conducts research focusing on audience studies of Korean media in the global realm including Western and Eastern Europe as well as Asia. The main theme of her research is on social changes and subculture in relation to the popularity of the Korean Wave in different nations. She is the author of the books, Media industry and Cultural studies, Feminist Perspective of New Communication Technology as well as this book, Global Media and Asian Identity.