Asian Tourism, Travelling Asia and Geographical Imaginaries
---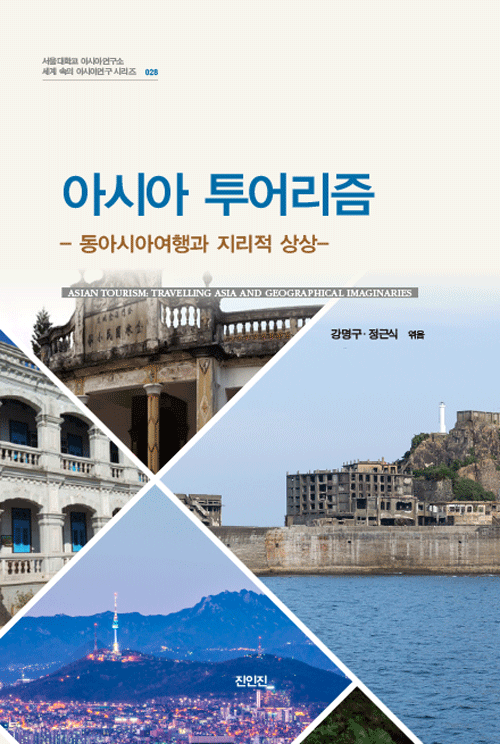 Editors: Myung-Koo Kang, Keun-Sik Jung
Publication Date: December/ 2019
Publisher: Zininzin
A study on the travelling of East Asian people in East Asia from the 1970's in the concept of geographical imaginaries, Asian Tourism, Travelling Asia and Geographical Imaginaries has been published as the 28th book in the SNU Asian Studies in a Global Context Series.
SNUAC has been operating a joint symposium on Asian Tourism from 2015 with Hokkaido University's Tourism Research Center, and has held five international conferences in two years since November 2015. As the faculty of Sun Yat-Sen University's School of Tourism Management joined in the second conference in March 2016, an Asian Tourism network of Seoul National University-Hokkaido University-Sun Yat-Sen University was formed.  Asian Tourism, Travelling Asia and Geographical Imaginaries is a product of the five academic conferences held by the three universities. In Japan, a book of the same project has been published in 2017.
Asian Tourism, Travelling Asia and Geographical Imaginaries was aimed at considering the sociocultural meaning of Asian tourism and defining the construction of its historicity, placeness and authenticity, and introduces nine papers written by 11 researchers of Korea, China, Taiwan and Japan, centered on cases and experience of travelling in Korea, Japan and China.
Section 1 deals with overseas travelling seen through the types, gaze and media of East Asian travellers. Chapter 1, Myung-Koo Kang and Eunyoung Nam analyzes Chinese tourists in Korea through a consideration of their internal travel experience. In Chapter 2, Seongbin Hwang extracts the common parts on Chinese tourists from media and internet space to explain the otherization of the Chinese tourists by the Japanese society and media. Chapter 3 is written by Yucheng Liang of Sun Yat-Sen University, on tourists from developing countries in China being influenced by the local social networks through a cumulative causation mechanism. Chapter 4, by Qian Zhou of Hokkaido University, illuminates the motivations for overseas travelling of the middle class in China based on the contents on Weibo.
Section 2 consists of five papers discussing the construction of authenticity and rediscovery of tourism centering on the implications of post-Cold War situation, placeness and cultural heritage on tourism. Keun-Sik Jung of Seoul National University and Chunfang Wu of Jinmen University writes in chapter 5 about how the war tourism of Kinmen, formed on the basis of Cold War landscape, turns into comprehensive tourism and acquires sustainability. Chapter 6, written by Sungmin Kim of Hokkaido University, introduces how the nature of Japanese tourists to Seoul has changed, from male aged over 40 in the 1970's to young tourists including college students and female office workers after the 1980's, depending on the urban development in Seoul. Chapter 7 introduces the process of interaction in which people of Okinawa come in contact with tourists, making new identities visible and available as tourism resources, with the case of placeness in Ryuku Kingdom's Sefa Utaki, a holy place. In chapter 8 by Ryoske Okamoto of Hokkaido University, he focuses on the concept of 'authenticity' in introducing the case of a fake cultural heritage made with the residents' subjective authenticity being used as tourism resource. Lastly, chapter 9 by Shisei Kimura of Konan Women's University in Japan examines 'authenticity' with the case of Gunkanjima as part of the 'heritage of industrical revolution in Meiji Japan' registered at UNESCO World Heritage in 2015.
Asian Tourism, Travelling Asia and Geographical Imaginaries not only offers the theoretical basis of studying Asian tourism but also presents new explanations and interpretatins on tourism based on cases of diverse tourists and tourism spots. The book will be useful to academic researchers in tourism studies, and also for actors in the tourism sector in East Asia, as well as tourists in China, Japan, Taiwan and Okinawa.