Southeast Asian Studies in Korea: The History, Trends and Analysis
---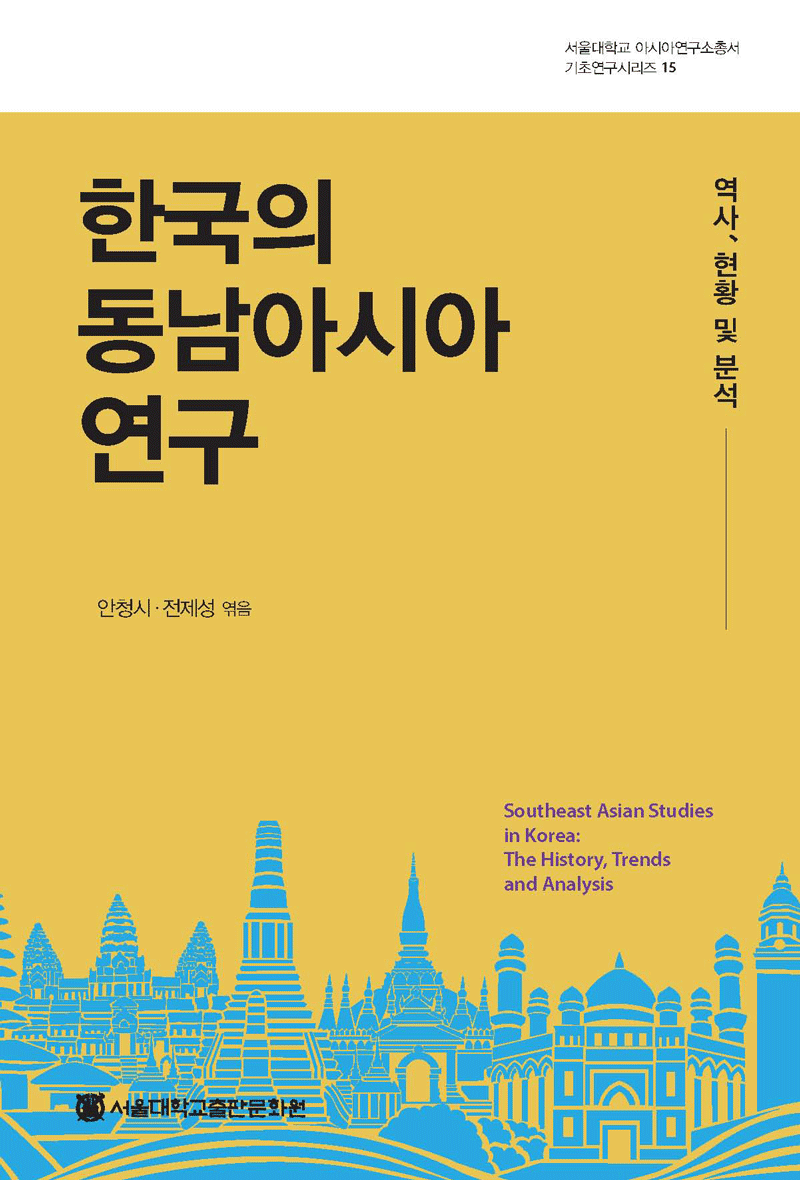 Editors: Chung-Si Ahn & Je Seong Jeon
Publication Date: September / 2019
Publisher: SNUPRESS
Korea's first scholarly tome that conducted a complete enumeration survey and analysis on domestic researches regarding Southeast Asian countries and ASEAN 
Korean academia has produced rapidly growing researches in Southeast Asian studies in the past three decades. The contributors to the book have exhaustively analyzed research achievements such as dissertations, scholarly articles, and monographs related to 11 countries (Indonesia, Vietnam, Thailand, the Philippines, Malaysia, Myanmar, Cambodia, Laos, Singapore, Brunei, East Timor) and ASEAN.
Beyond the humanities and social sciences and in the wider span of all disciplines, this is the first book to be published that has collected, classified and evaluated the publishing situation of dissertations, scholarly articles, and academic monographs. Even among various regional researches in other regions, it is hard to find any precedent in such a format.
The current government claims to advocate its New Southern Policy as a major diplomatic strategy. It is a strategy to pursue a new power balance with the Korean peninsula in the center, by putting a value on the Southern region in the age of the US-China competition. Yet there had not been any thorough investigation upon the terrain of knowledge, which would become the basis of pursuing such creative strategies.
This book offers the present status that a considerable amount of knowledge on major Southeast Asian countries has been accumulated in Korea, by presenting the details of Korean experts and dissertations on the region. Meanwhile, it also illuminates that there is still a lack of knowledge about the weak states in Southeast Asia, pointing out where more research is needed. It is very positive that Korea's accumulation of knowledge about Southeast Asia is spreading after half a century beyond the humanities and social sciences into natural sciences and engineering, and that there recently have been remarkable contributions by students from Southeast Asia. On the other hand, there are limits in the field that it is still humanities-and-social-sciences-oriented and that it does not embrace the achievements of students who originate from the region. This book presents the partition phenomenon among disciplines and universities and the lack of inclusivity in terms of Southeast Asian research as an urgent problem.