Why Conventional Financial System Is Prone to Financial Crisis?
---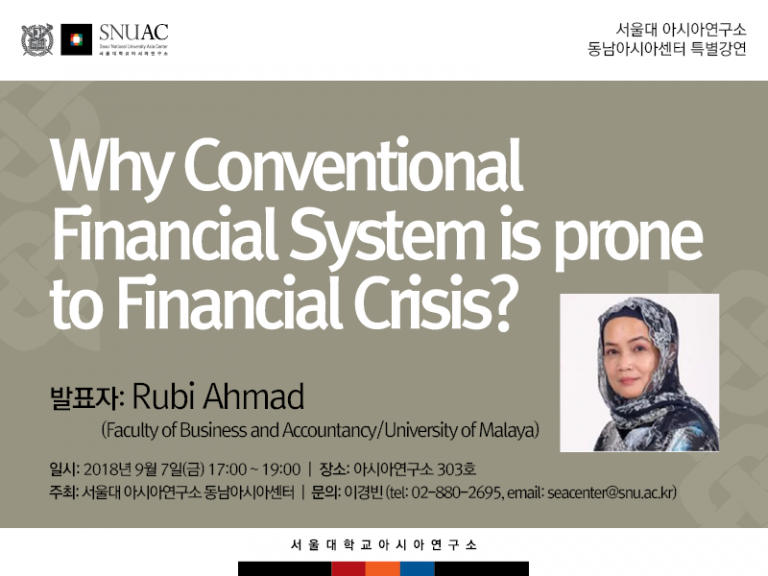 Special Lecture
Date & Time: Friday, 7 September, 2018, 17:00-19:00
Place: International Conference Room(#303),  SNUAC(Bldg#101)
Speaker: Professor Rubi Ahmad(Faculty of Business & Accountancy, Univ. of Malaya)
Host: SNUAC Southeast Asia Center
Inquiry: Kyungbin Lee / +82-2-880-2695
This lecture will touch on the workings of a capitalist economy and its financial system. A country is susceptible to financial crisis due to the problem of some aspects of the conventional financial system today. Firstly, the financial system relies on fiat money as a medium of exchange. Unlike commodity money before that, government has an absolute monopoly power over the supply of fiat money. The current financial system is based on an interest-based fractional reserve system making banks very vulnerable to financial crisis. The overreliance on debt instruments as a source of financing aggravates the problem even more. These three elements of the current financial system cause countries' financial markets and economies to be very unstable and sensitive to shocks. History has shown that bank regulations do not deter bank managers from taking excess risk. Outlawing debt instruments and replacing fiat money with commodity money may seem far-fetched. Hence, the best alternative for countries to avoid financial crisis from happening again is to consider moving away from fractional reserve banking system to an equity-based banking system or an interest-free banking system as propagated by the religion of Islam.