Student Club
---
Supporting Student Clubs
An important part of SNUAC's efforts to nurture next-generation specialists in Asia is the consistent support for two student clubs engaging in activities related to Asian culture and regional issues.
"Amigo," A Club for Students Who Care about Asia's Future
"Amigo" is an abbreviation of a Korean phrase meaning "a gathering of those who care about the future of Asia." The club is a reading group where members select, read, and discuss books on Asia-related topics. In addition to conducting weekly reading seminars, members organize book talks where they invite authors to discuss their books.
For 2016, the club chose the topic of sustainable development in Asia, a timely topic, given the increasing popularity of the terms "Official Development Assistance" (ODA) and "Sustainable Development Goals (SDG)" in Asian Studies. With the addition of new members, the club divided into subgroups examining the problems of inequality, regional development, and legal system and implementation methods through research and visits to related sites.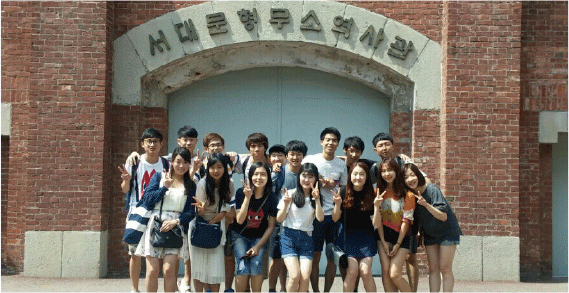 Foundation of Intercultural Cooperation 'FICS'
FICS (The Foundation of Intercultural Cooperation by Students) is a social research and exchange club with the mission of "Sharing Ideas and Reaching a New Realization." A club of the same name operates in the Univ. of Tokyo, and the two clubs closely interact. During the semester, each club pursues research individually, and every August, all members spend a week in Seoul and a week in Tokyo to discuss the problems of Korean and Japanese societies and possible solutions based on their research findings.
During the first semester of 2017, the club focused on recruiting new members and conducting preparatory sessions. On March 10, a preparatory session for the joint seminar took place at Shinyang Hall of the SNU College of Social Sciences with participation of students from the Univ. of Tokyo. At the joint seminar, which marked its fourth anniversary last year, club members from the two schools discussed emerging social issues in their countries. Currently the 8th club members have been recruited and are participating in related research.