KF Global e-School
---
KF Global e-School Program
In response to the increasing interest overseas in rapid changes experienced by Korea, SNUAC, with support of the Korea Foundation (KF), has been designing and offering various courses in Korean studies to foreign students since 2011. Several formats were experimented in order to develop a new educational model for real-time video lectures. Over the past 7 years, the SNUAC has provided 67 courses to 14 universities in 8 countries. Moreover, the e-School Program has become the flagship educational program
of SNUAC, where the Center collaborates with other prestigious universities and integrates education and research with diverse types of international exchange for the purpose of creating a new, sustainable model of education.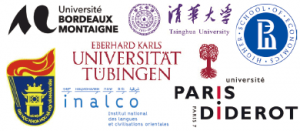 The participants in the 2017 program were from Tsinghua Univ. (China), the Higher School of Economics (Russia), the Univ. of Tubingen (Germany), Paris Diderot Univ. and Bordeaux Montaigne Univ. (France), and the Univ. of Social Sciences and Humanities–Vietnam Nat'l Univ. Hanoi (Vietnam). Notably, the 2017 e-School course for Tsinghua Univ. was selected as an innovative education program by the university. In 2017, SNUAC offered 8 for-credit courses taught by 11 faculty members of Seoul Nat'l Univ. to 174
undergraduate and graduate students in partner universities.
In addition, 8 outstanding students from 5 universities in 4 countries participated in the '2017 KF Global e-School Fellowship Program' funded by the KF and co-organized with SNU Office of International Affairs in June-July 2017. The participants in the four-week program were provided with travel expenses, enrollment fees for international summer courses, and accommodation. During their stay in Seoul, the participants had the opportunity to deepen their knowledge of Korea by interacting with SNUAC interns and student club members.
SNUAC was selected for the third phase of the e-School Program (2018-2020) and will continuously provide education programs for international students from prestigious universities who are interested in the Korean society.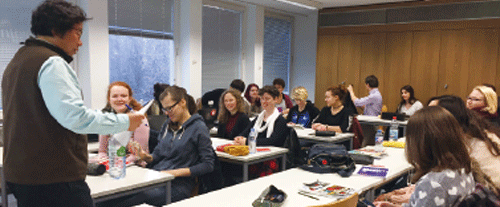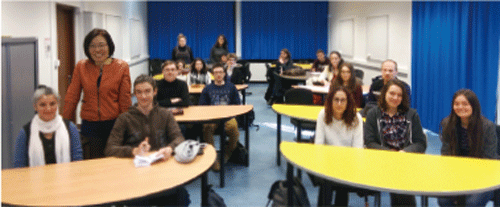 Courses Offered in e-School
Spring 2011
▪ Changing World Order and Korea (Chulalongkorn University, Thailand)
▪ Cultural and Social Transformation of Contemporary Korea (Waseda University, Japan)
Fall 2011                    
▪ Changes in East Asia (Chulalongkorn University, Thailand)
▪ Cultural and Social Transformation of Contemporary Korea (Waseda University, Japan)
▪ Introduction to Korean Studies (National Research University Higher School of Economics, Russia)
Spring 2012
▪ Media Studies in East Asia (Joint lecture course with Peking Univ. & Univ. of Tokyo)
▪ Economic Development in East Asia (National Research University Higher School of Economics, Russia)
▪ Socio-Cultural Traditions of Korea (National Research University Higher School of Economics, Russia)
▪ Two Koreas (Eberhard Karls Universität Tübingen, Germany)
Fall 2012
▪ Cross-Cultural Explorations in East Asia (Joint lecture course with Tsinghua University, China)
▪ Confucian Culture and Business Organization in East Asia (Joint lecture course with Renmin Univ. of China & Univ. of Tokyo)
▪ Cultural and Social Transformation of Contemporary Korea (Eberhard Karls Universität Tübingen, Germany)
▪ Economic Development in East Asia (National Research University Higher School of Economics, Russia)
▪ East Asian International Relations and South Korea's Foreign Policy (National Research University Higher School of Economics, Russia)
Spring 2013
▪ Introduction to Korean Studies (National Research University Higher School of Economics, Russia)
▪ Media Studies in East Asia (Joint lecture course with Peking Univ. & Univ. of Tokyo)
▪ Socio-Cultural Traditions of Korea (National Research University Higher School of Economics, Russia)
▪ Korean-US Relations (Eberhard Karls Universität Tübingen, Germany)
Fall 2013
▪ Cross-Cultural Explorations in East Asia (Joint lecture course with Tsinghua University, China)
▪ Understanding of Korean Industry and Business (National Research University Higher School of Economics, Russia)
▪ Cultural and Social Transformation of Contemporary Korea (Eberhard Karls Universität Tübingen, Germany)
▪ Economic Development in East Asia (National Research University Higher School of Economics, Russia)
▪ Understanding Korean Society (University of Social Sciences and Humanities – VNU, Hanoi, Vietnam)
▪ Introduction to Korean Studies (National Research University Higher School of Economics, Russia)
Spring 2014
▪ Socio-Cultural Traditions of Korea (National Research University Higher School of Economics, Russia)
▪ International Relations and the Korean Peninsula (National Research University Higher School of Economics, Russia)
▪ Understanding Korean Society (University of Social Sciences and Humanities – VNU, Hanoi, Vietnam)
▪ Korea-US Relations (Eberhard Karls Universität Tübingen, Germany)
▪ Contemporary Korean Society (The University of Western Australia, Australia)
Fall 2014
▪ Introduction to Korean History (University of Social Sciences and Humanities – VNU, Hanoi, Vietnam)
▪ Social Transformation in China and Korea (Joint lecture course with Peking University, China)
▪ Cross-cultural Explorations in East Asia (Joint lecture course with Tsinghua University, China)
▪ Introduction to Korean Studies (National Research University Higher School of Economics, Russia)
▪ International Relations and the Korean Peninsula (National Research University Higher School of Economics, Russia)
▪ Economic Development in East Asia (Eberhard Karls Universität Tübingen, Germany)
"Theories and Research Methods for Korean Studies" (Freie Universität Berlin, Germany)
"Series of Lectures: The State of the Art of the Social Science Research on Korea in Korea" (Université Paris Diderot, France & Institut National des Langues et Civilisations Orientales, France)
Spring 2015
▪ Understanding Korean Society (University of Social Sciences and Humanities – VNU, Hanoi, Vietnam)
▪ Cultural and Social Transformation of Contemporary Korea (Eberhard Karls Universität Tübingen, Germany)
Fall 2015
▪ Understanding Modern Korean Literature (University of Social Sciences and Humanities – VNU, Hanoi, Vietnam)
▪ The frontiers on Intercultural communication of Sino-Korea (Peking University, China)
▪ Cross-cultural Explorations in East Asia (Joint lecture course with Tsinghua University, China)
▪ Introduction to Korean Studies (National Research University Higher School of Economics, Russia)
▪ Korean Political Economy (Eberhard Karls Universität Tübingen, Germany)
▪ Theories and Research Methods for Korean Studies (Freie Universität Berlin, Germany)
▪ Research Methods in Korean Studies (Université Paris Diderot, France & Institut National des Langues et Civilisations Orientales, France)
Winter 2015
▪ Introduction to Korean Politics (National Research University Higher School of Economics, Russia)
▪ Social Traditions of Korea: Contemporary Korean Society (National Research University Higher School of Economics, Russia)
Spring 2016
▪ Popular Culture and Media in Korea (Université Bordeaux Montaigne, France)
▪ Introduction to Korean History (University of Social Sciences and Humanities – VNU, Hanoi, Vietnam)
▪ Cultural and Social Transformation of Contemporary Korea (Eberhard Karls Universität Tübingen, Germany)

Spring 2017
▪ Culture of Korea (Univ. of Social Sciences & Humanities – VNU, Hanoi, Vietnam)
▪ Cultural and Social Transformation of Contemporary Korea (Eberhard Karls Universität Tübingen, Germany)
Fall 2016
▪ Popular Culture and Media in Korea (Univ. of Social Sciences and Humanities – VNU, Hanoi Vietnam)
▪ Cross-Cultural Explorations in EastA sia (Tsinghua Univ., China)
▪ Introduction to Korean Studies (Nat'l Research Univ. Higher School of Economics, Russia)
▪ Korean Political Economy (Eberhard Karls Universität Tübingen, Germany)
▪ Research Methods in Korean Studies (Université Paris Diderot, France & Institut National des Langues et Civilisations Orientales, France
Fall 2017
▪ Korean History (Univ. of Social Sciences &Humanities – VNU, Hanoi, Vietnam)
▪ Cross-Cultural Explorations in East Asia (Tsinghua Univ., China)
▪ Introduction to Korean Studies (Nat'l Research Univ. Higher School of Economics, Russia)
▪ Korean Political Economy (Eberhard Karls Universität Tübingen, Germany)
▪ Research Methods in Korean Studies (Université Paris Diderot, France & Institut National des Langues et Civilisations Orientales, France)
Winter 2016
▪ Social Traditions of Korea: Contemporary Korean Society (Nat'l Research Univ. Higher School of
Economics, Russia)
▪ Introduction to Korean Politics (Nat'l Research Un.iv Higher School of Economics, Russia)
▪ Popular Culture and Media in Korea (Université Bordeaux Montigane, France)
Winter 2017
▪ Popular Culture and Media in Korea (Université Bordeaux Montigane, France)