Twenty Years of Korean Wave, Past Achievements and Future Strategies
---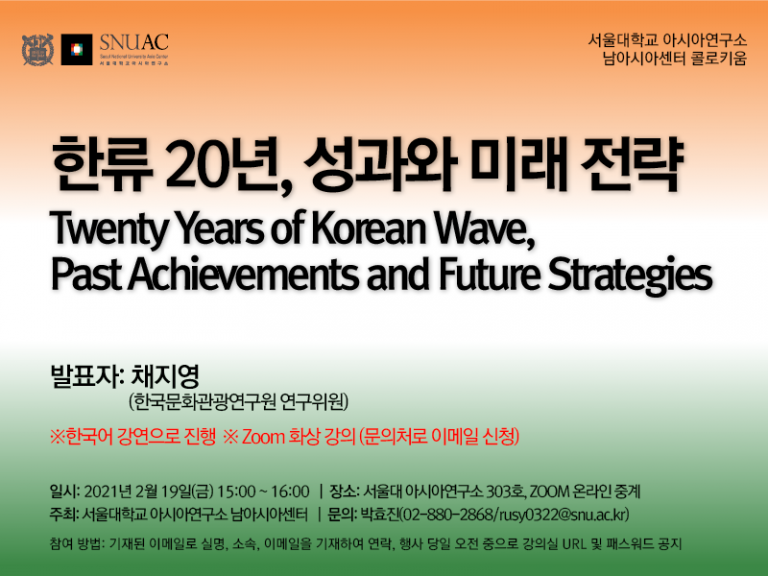 Date: February 19th, Friday, 2021 15:00 – 16:00
Location: Room 303, SNUAC (Bldg. 101) & Online via Zoom
---
Speaker: Jeeyoung Chae (Researcher, Korea Culture & Tourism Institute)
The Center for South Asian Studies is holding a colloquium with Dr. Jeeyoung Chae to discuss the history and achievements of the Korean Wave, its limits and tasks, and how the Korean Wave of the future should be.
※ The lecture will be in Korean.
※ To participate online, please email rusy0322@snu.ac.kr with your name, affiliation, and email address. You will receive an email with the URL and password for the Zoom conference before noon on the day of the event.
Dr. Jeeyoung Chae, Researcher at Cultural Industry Research Center, Korea Culture & Tourism Institute
BA (Psychology), Dept. of Educational Psychology, College of Education, Ewha Womans University
MA (Psychology), Dept. of Educational Psychology, Ewha Womans University Graduate School
MBA (Management of Decision Making System), The George Washington University
PhD (Psychology) in Consumer & Advertising Psychology, Dept. of Psychology, Ewha Womans University Graduate School
Researcher in Social Psychology, Tokyo University
Visiting Researcher, Shizuoka University