Pinecone Week: Songhyeon-dong Community Center Opening Ceremony
---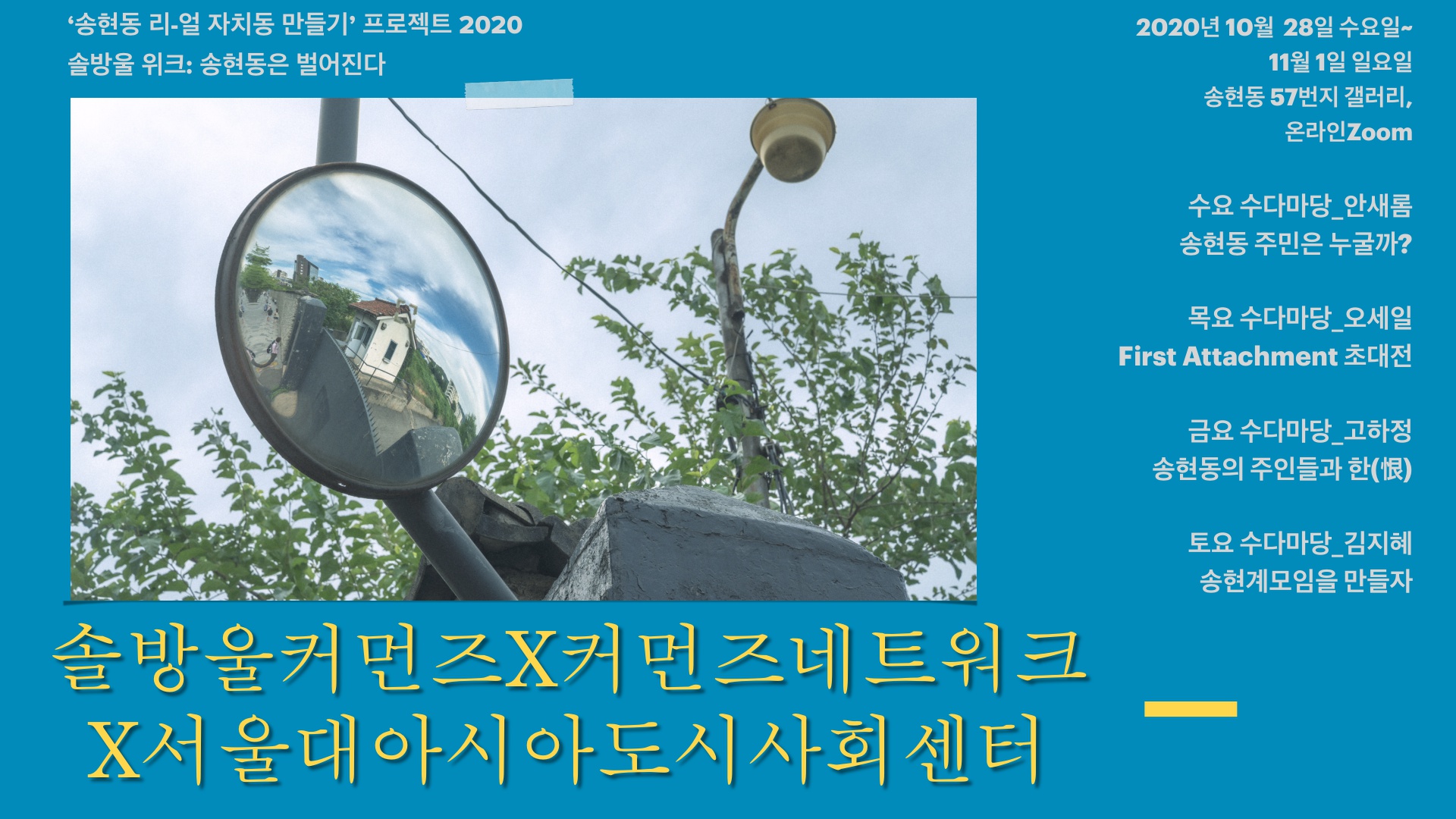 Date: October 28th – 31st, Wednesday – Saturday, 2020
Location: 57th Gallery and online
---
The Pinecone Week held by Pinecone Commons and SNUAC CAUS will start from October 28th, Wednesday.
We invite all who are interested in Songhyeon-d0ng and commons.
Songhyeon-dong is a space where the past, present and future of Seoul's urban planning reside. From October 28th to 31st, the Pinecone Week, a cultural and art event to explore the plans of Songhyeon-dong will be held at 57th Gallery in Songhyeon-dong. The Pinecone Week consists of exhibitions and events under the theme of looking for the residents of Songhyeon-dong. The event does not delimit who can participate in urban planning, and instead ask and discuss how a city open to all can be actually possible.
We ask all those wishing to discuss commons, the use of public space, turning urban spaces into parks, and urban issues, to join us for these events. Participation is open for both offline and online.
Exhibition venue: 57 Songhyeon-dong Jongno-gu Seoul, 2nd Floor, 57th Gallery
Exhibition period: October 28th – 31st, Wednesday – Saturday, 2020 (11:00 – 20:00)
※ At Wed, Thu, Fri 19:00 and Sat 15:00, 19:00, story-sharing events will be held.
Please subscribe to our webzine on the Pinecone Commons website!
▶https://pineconecommons.wixsite.com/pinecone
RSVP for online participation to pinecone.commons@gmail.com, and we will send you information and the webzine.