International Conference on State Violence and Trauma 2020
---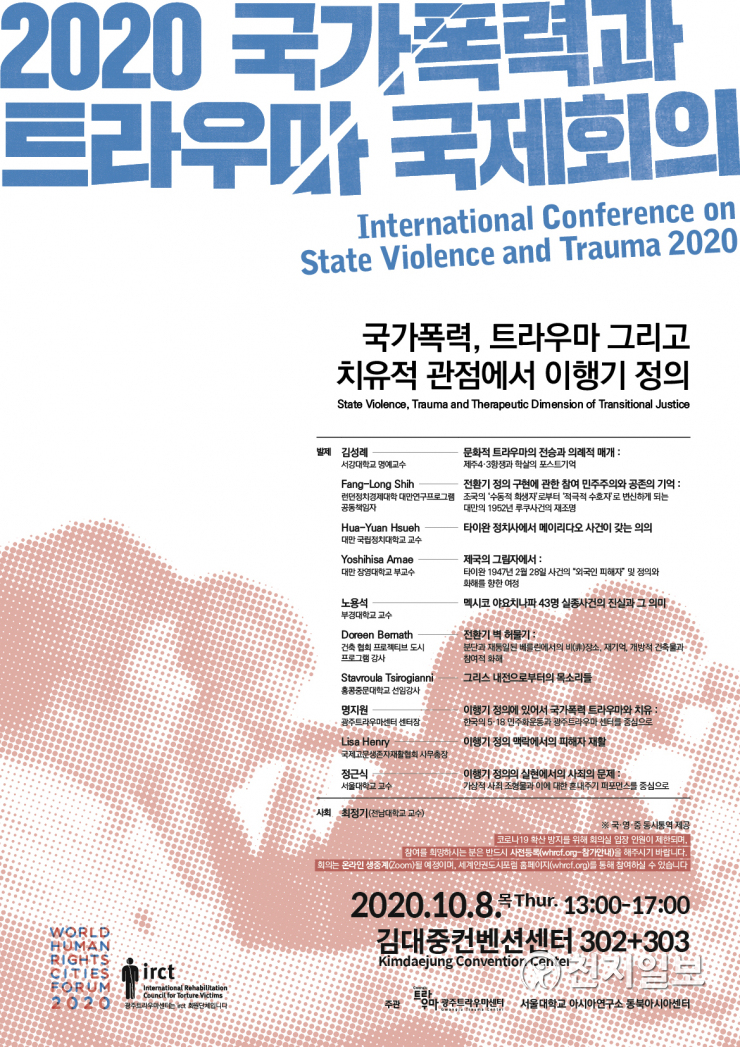 Date: October 8th, Thursday, 2020 13:00 – 17:00
Location: Room 302, 303, Kimdaejung Convention Center
---
Gwangju Trauma Center and SNUAC Northeast Asia Center are jointly holding the 2020 International Conference on State Violence and Trauma. This year's conference will be on 'State Violence, Trauma and Therapeutic Dimension of Transitional Justice', comparing and examining the efforts in defining transitional justice in Korea, Taiwan, Greece, Germany, and Mexico in order to discuss the better ways and the possibility of healing trauma. Invited speakers include five Korean speakers and six overseas speakers, and the presentations of the latter will be done online. We ask you for your support and participation.
---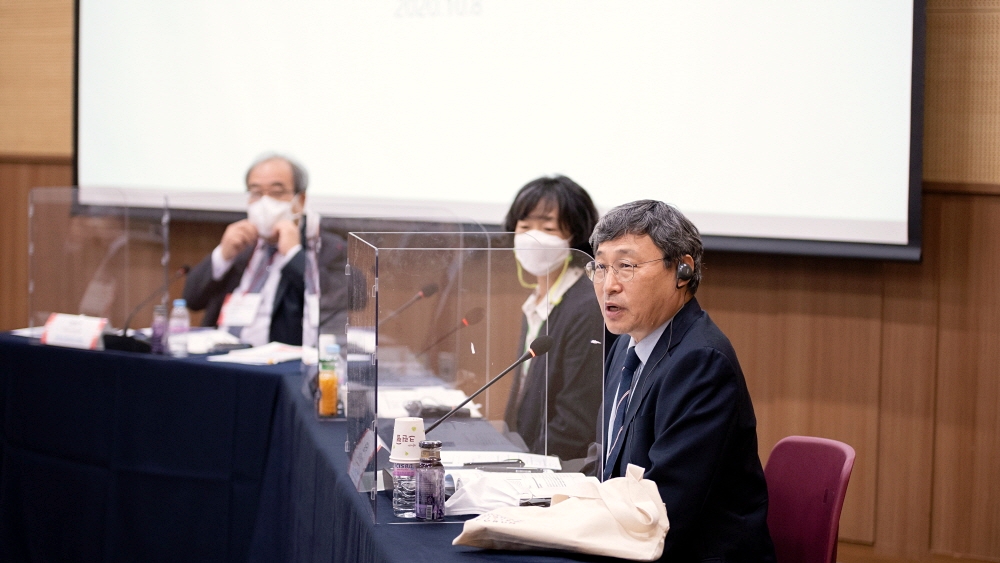 ---
SNU Northeast Asia Center held the 7th International Conference on State Violence and Trauma with Gwangju Trauma Center on 'State Violence, Trauma and Therapeutic Dimension of Transitional Justice' on October 8th. Professor Keun-Sik Jung, the Director of Northeast Asia Center, presented on "The Problem of Apology in Realizing Transitional Justice: Sculpture of Virtual Apology and the Performance of Rebuke".
The International Conference on State Violence and Trauma has been held every year since 2013 and has continued an active discussion on state violence, trauma, therapy, and state responsibility from a global context. This year's conference was held as part of the 10th World Human Rights Cities Forum, inviting researchers from around the world such as Germany, Denmark, Taiwan, Greece, and Ireland, to share the present situation and cases of state violence around the globe and to discuss the methods and efforts for transitional justice. Along with Korea's 5.18 Democratization Movement and cases of Gwangju Trauma Center, efforts in transitional justice such as Taiwan's 1952 Luku Incident, Meilidao Incident, Mexico's case of 43 people disappearing in Ayotzinapa, the Berlin Wall, and the Greek Civil War were compared and examined at once, in order to seek the possibility of better methods in transitional justice and therapy.
As the organizer of the conference and the final presenter, Prof. Jung raised the problem of apology in realizing transitional justice through sculptures of virtual apology and the rebuking performances, examining the problem of not apologizing in the 5.18 issue from a theoretical point of view and tracing the historical genealogy. Through the presentation, he emphasized that the principle of punishing the person in charge is not completed with the punishment itself but that it must be continued by the renewal of the political community with reconciliation through the apology and healing of the victims. Since apology not only concerns the issue of sincerity but also requires the conditions of forgiveness, his presentation suggested an important implication in the academic and practical advancement in the transitional justice and therapeutic efforts in terms of state violence and trauma.