The Formation and Prospect of Disaster Governance in the Era of COVID-19: International and Comparative Perspectives
---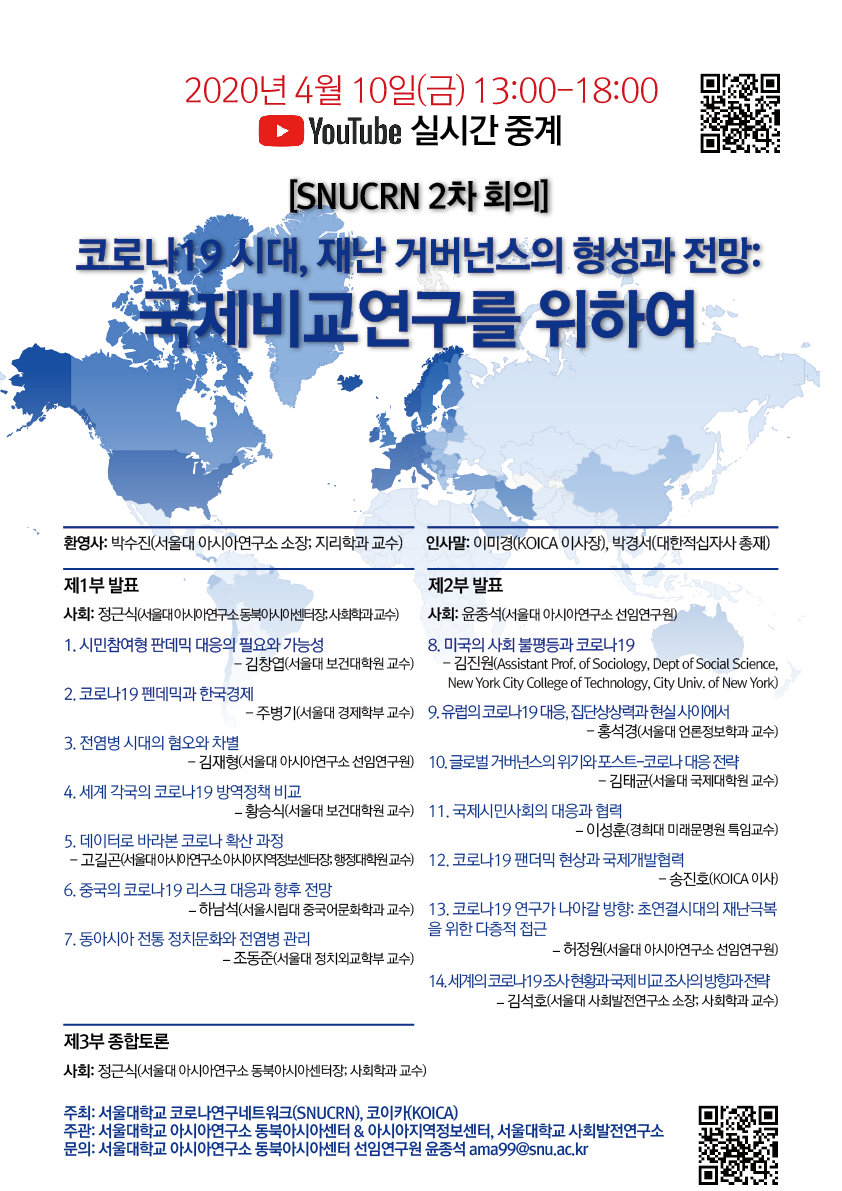 Date: April 10th, Friday, 2020 13:00-18:00
This event will be live-streamed via YouTube for the purpose of social distancing, which will be available to view on SNUAC website (Details TBA)
---
The Formation and Prospect of Disaster Governance in the Era of COVID-19: International and Comparative Perspectives
Hosted by SNU COVID-19 Research Network (SNUCRN), KOICA
Organized by SNUAC Northeast Asia Center & Asia Regional Information Center, SNU Institute for Social Development and Policy Research
---
---
SNUAC Northeast Asia Center held an online academic conference on "The Formation and Prospect of Disaster Governance in the Era of COVID-19: International and Comparative Perspectives" on April 10th, jointly with Asia Regional Information Center and SNU Institute for Social Development and Policy Research. This is the second academic event held by SNUAC  regarding COVID-19, hosted by SNUCRN and sponsored by KOICA, following the urgent round-table talk "Novel Coronavirus, Social Shock and Prospects".
This event called together experts on public health, administration, politics and sociology to diagnose the social shock of COVID-19 by issue, and verified the current issues on the diffusion of COVID-19 in major areas including China, USA, and Europe. Further, the participants discussed building global governance, the cooperation of international civil society, actual issues of international development cooperation and the importance of alternative measures, to seek the direction for future strategies and comparative research in COVID-19 research.
President Mi-kyung Lee of KOICA emphasized that we must prepare for the global post-COVID-19 era and that while it is an important time for Korea to re-establish its status according to its response, there is also the importance of global cooperation and solidarity in preparation of 'New Normal' and 'Post-COVID-19'. President Kyung-seo Park of Korean Red Cross talked of the need for seeking measures to participate in and contribute to building disaster governance from a global perspective beyond Korea's fences, and emphasized the importance of searching for exemplary measures for a sustainable development strategy for communities that will not aggravate the issue of polarization between individuals, groups, and nations.
Session 1 was moderated by Prof. Keun-Sik Jung (Director, SNUAC Northeast Asia Center; Dept. of Sociology) and consisted of urgent diagnoses by experts on major issues. Prof. Chang-yup Kim (Graduate School of Public Health) presented on "Participatory Pandemic Responses and Democratic Biopolitics", Prof. Biung-Ghi Ju (Dept. of Economics) discussed "COVID-19 Pandemic and Korean Economy", and Jaehyung Kim (Research Fellow, SNUAC) talked about "Hatred and Discrimination in the Era of Contagious Disease". Also, Prof. Seung-sik Hwang (Graduate School of Public Health) presented on "Worldwide Comparison to Policies of Infection Prevention and Control (IPC) for COVID-19", while Prof. Kilkon Ko (Director, SNUAC Asia Regional Information Center; Graduate School of Public Administration) talked about "Understanding COVID-19 through the Lens of Data Analytics", Prof. Nam Suk Ha (Dept. of Chinese Language and Culture, University of Seoul) discussed "China's COVID-19 Risk Management and Prospects" and Prof. Dong-Joon Jo (Dept. of Political Science and International Relations) presented on "Traditional Political Culture and Contagious Disease Control in Asia" to approach the COVID-19 situation from dimensions of policy, history and data for a more abundant understanding.
Session 2 was moderated by Jongsuk Yoon (Research Fellow, SNUAC) for an in-depth discussion. Prof. Jinwon Kim (Dept of Social Science, New York City College of Technology, City Univ. of New York) talked about "COVID-19 and Social Inequality in New York City", and Prof. Seok-kyeong Hong (Dept. of Communication) presented the "Responses to COVID-19 between Collective Imagination and Reality" to introduce and discuss the local situations and issues in Europe and USA. Prof. Taekyoon Kim (Graduate School of International Studies) discussed the "Crisis of Global Governance and Strategies of Response to Post-COVID-19", Prof. Sunghoon Lee (Global Academy for Future Civilizations, Kyung Hee University) discussed the "Response and Cooperation of International Civil Society against COVID-19" and Director Jinho Song (KOICA) discussed "COVID-19 Pandemic and International Development Cooperation" to introduce and talk about new challenges and prospects in global governance, civil society and developmental cooperation. Lastly, Jungwon Huh (Research Fellow, SNUAC) presented "For Multi-dimensional Research to Support Global Solidarity against COVID-19 Outbreak and Its Consequences in Highly Connected World" and Prof. Seok-ho Kim (Director, SNU Institute for Social Development and Policy Research; Dept. of Sociology) talked about "Global Research on COVID-19 and the Direction and Strategy for International Comparative Research" to present important directions and strategies for future COVID-19 research and international comparative research.
Session 3 consisted of a comprehensive discussion of major issues and the direction that COVID-19 research must take in the future, moderated by Prof. Keun-Sik Jung. The 5-hour long conference was concluded with a shared understanding of the need for consistent interest and research to understand the changing world after COVID-19 and to seek the role and contribution of Korea.
SNUCRN plans to hold another academic conference in May, jointly with KOICA. Furthermore, SNUCRN will build the basis for research by collecting data and resources related to COVID-19 research, pursue international comparative research and continue COVID-19 research.
<Program>
13:00~13:15
Registration
13:15~13:30
SooJin Park (Director, SNUAC; Dept. of Geography): Welcome speech
Mi-kyung Lee (President, KOICA): Greeting remarks
Kyung-seo Park (President, Korean Red Cross): Greeting remarks
Session 1
Moderator: Keun-Sik Jung (Director, SNUAC Northeast Asia Center; Dept. of Sociology)
13:30~13:45
Chang-yup Kim (Prof., Graduate School of Public Health)
Participatory Pandemic Responses and Democratic Biopolitics
13:45~14:00
Biung-Ghi Ju (Prof., Dept. of Economics)
COVID-19 Pandemic and Korean Economy
14:00~14:15
Jaehyung Kim (Research Fellow, SNUAC)
Hatred and Discrimination in the Era of Contagious Disease
14:15~14:30
Seung-sik Hwang (Prof., Graduate School of Public Health)
Worldwide Comparison to Policies of Infection Prevention and Control (IPC) for COVID-19
14:30~14:45
Kilkon Ko (Director, SNUAC Asia Regional Information Center; Prof., Graduate School of Public Administration)
Understanding COVID-19 through the Lense of Data Analytics
14:45~15:00
Nam Suk Ha (Prof., Dept. of Chinese Language and Culture, University of Seoul)
China's COVID-19 Risk Management and Prospects
15:00~15:15
Dong-Joon Jo (Prof., Dept. of Political Science and International Relations)
Traditional Political Culture and Contagious Disease Control in Asia
 15:15~15:30
Break
Session 2
Moderator: Jongsuk Yoon (Research Fellow, SNUAC)
 15:30~15:45
Jinwon Kim (Assistant Prof. of Sociology, Dept of Social Science, New York City College of Technology, City Univ. of New York)
COVID-19 and Social Inequality in New York City
15:45~16:00
Seok-kyeong Hong (Prof., Dept. of Communication)
Responses to COVID-19 between Collective Imagination and Reality
16:00~16:15
Taekyoon Kim (Prof., Graduate School of International Studies)
Crisis of Global Governance and Strategies of Response to Post-COVID-19
16:15~16:30
Sunghoon Lee (Adjunct Prof., Global Academy for Future Civilizations, Kyung Hee University)
Response and Cooperation of International Civil Society against COVID-19
16:30~16:45
Jinho Song (Director, KOICA)
COVID-19 Pandemic and International Development Cooperation
16:45~17:00
Jungwon Huh (Research Fellow, SNUAC)
For Multi-dimensional Research to Support Global Solidarity against COVID-19 Outbreak and Its Consequences in Highly Connected World
 17:00~17:15
Seok-ho Kim (Director, SNU Institute for Social Development and Policy Research; Prof., Dept. of Sociology)
Global Research on COVID-19 and the Direction and Strategy for International Comparative Research
17:15~17:30
Break
Session 3 – Comprehensive Discussion
Moderator: Keun-Sik Jung (Director, SNUAC Northeast Asia Center; Dept. of Sociology)
17:30~18:00