Policy Seminar on Community Impact Assessment
---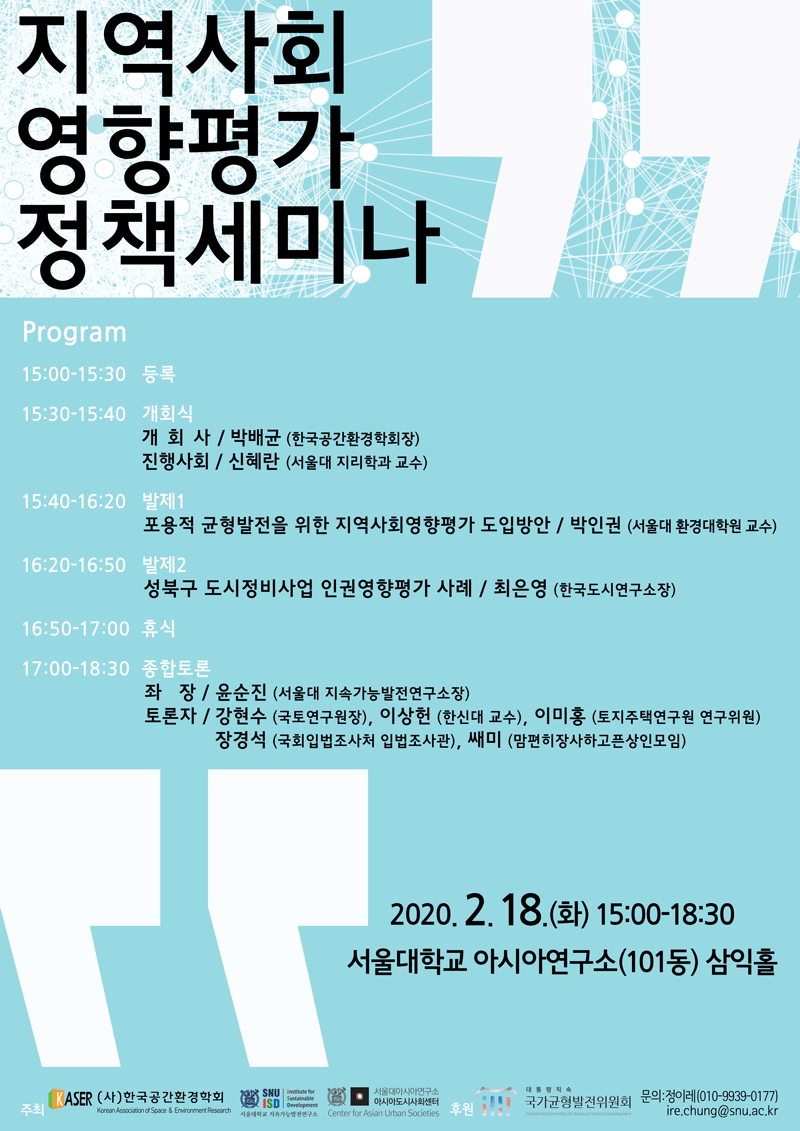 Date: February 18th, Tuesday, 2020 15:00-18:30
Location: Room 210, SNUAC (Bldg. 101)
---
Moderator: HaeRan Shin (Prof., SNU Geography)
Opening speech: Bae-Gyoon Park (President of the Korean Association of Space & Environment Research/Prof., Dept. of Geography)
Presentation 1: Measures of Introducing Community Impact Assessment for Inclusive Balanced Development – In Kwon Park (Prof., Graduate School of Environmental Studies)
Presentation 2: Case of Human Rights Impact Assessment in Seongbuk-gu Urban Redevelopment Project – Eunyoung Choi (Director, Korean Center for City and Environment Research)
General Discussion
Chair: Sun Jin Yun (Director, SNU Institute for Sustainable Development/Prof., Graduate School of Environmental Studies)
Discussants:
Hyun Soo Kang (Director, Korea Research Institute for Human Settlements), Sanghun Lee (Prof., Hanshin Univ.), Mihong Lee (Researcher, Land & Housing Institute), Kyoung-Seok Jang (Researcher, National Assembly Research Service), Sammy (Mamsangmo)
"Policy Seminar on Community Impact Assessment" will be held on February 18th, 2020, Tuesday, at Samik Hall, SNUAC.
This seminar is intended as a place of collecting diverse opinions from each sector in order to reasonably introduce the 'Community Impact Assessment' system that calls for countermeasures of the redevelopment policies and projects discriminating influences (forced eviction, migration, etc.) on communities by prior diagnosis, analysis and minimizing the negative influences. This seminar is sponsored by the Presidential Committee for Balanced National Development, and jointly held by the Korean Association of Space & Environment Research, SNU Institute for Sustainable Development and SNUAC Center for Asian Urban Societies.
Please RSVP by February 13th, Thursday. (On-site registration will be available.)
RSVP : https://forms.gle/RkSHCzoJUTBJxQcf6
---
---
On February 18th, Policy Seminar on Community Impact Assessment was held at Samick Hall, SNUAC. In this seminar, Prof. In Kwon Park (SNU Graduate School of Environmental Studies) raised the need for the institution of community impact assessment under the value of inclusive and balanced development, while Director Eunyoung Choi introduced the case of Seongbuk-gu's human rights impact assessment in the urban redevelopment project. Experts of respective fields were invited to discuss measures to heighten the utility of community impact assessment.
Prof. Park suggested an assessment system to minimize the side-effects on the regional community such as the dissolution and mitigation of community and exclusion and isolation of social minorities through a preliminary, multi-perspective diagnosis of negative impacts caused in the process of conducting policy and projects related to regional development. Especially he examined the significance and limitations of similar institutions such as environmental impact assessment, social impact assessment, and human rights impact assessment as he designed the community impact assessment. Eunyoung Choi (Director, Korean Center for City and Environment Research) raised the issue of forced eviction and involuntary moving due to redevelopment projects. She pointed out the problems in compensation and information availability t0 small-scale tenants as she showed the case of Seongbuk-gu's urban redevelopment project which executed the human rights impact assessment following the regional government's framework of the ordinance on human rights.
In the discussion, Hyun Soo Kang (Director, Korea Research Institute for Human Settlements), Sanghun Lee (Prof., Hanshin Univ.), Mihong Lee (Researcher, Land & Housing Institute), Kyoung-Seok Jang (Researcher, National Assembly Research Service), and Sammy (Mamsangmo) were invited to talk about real issues such as tenant measures in the process of designing and implementing the regional policy and institution for balanced development, and in the actual process of redevelopment.