Myanmar's Political Development: Reactive Nationalism to Federalism?
---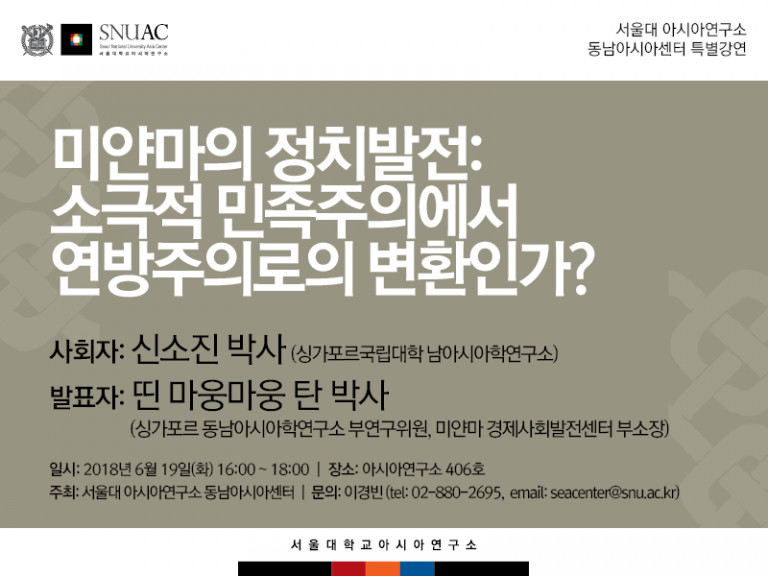 Special Lecture
Date & Time: Tuesday, 19 June, 2018, 16:00-18:00
Place: Room #406, SNUAC(Bldg#101)
Speaker:  Dr. Tin Maung Maung Than
(Associate Fellow, ISEAS-Yusof Ishak Inst't, Singapore;
Vice Chair, Centre for Economic & Social Development, Myanmar)
Chair: Dr. Sojin Shin (National Univ. of Singapore)
Organizer: SNUAC Southeast Asia Center
Inquiry: Kyungbin Lee / +82-2-880-2695  / seacenter@snu.ac.kr
After many centuries of personalized dynastic rule, Myanmar (known as Burma until 1989) encountered impersonal bureaucratic rule after being colonized by Britain in the 19th century. First governed as a province of British India until 1937 when it was allowed to be separately governed, Myanmar's formal politics was mainly confined to elitist competition for local municipal governance while counter-elites employed reactive nationalism to agitate against colonial rule. Calling for self-determination and invoking race and religion, the nationalist movement gained momentum in the decade before the Pacific War. Informed by leftist ideas and Irish revolutionary zeal, the students became the vanguard of the movement and confrontation became the order of the day. Aung San Suu Kyi's father Aung San was the prime mover for 'liberation' by force of arms in alliance with Japanese invaders. Politics was squashed by fascism under Japanese rule and revolt by Aung San's army ensued.
Fast forward to negotiated independence in January 1948, and the Union of Burma was born as a unitary state with a parliamentary democracy system whose politics was more of a patron-client relationship than democratic, and bounded by a socialist legacy of the nationalist movement. When state-building failed to incorporate the ethnic nations, ethnic politics came to dominate the democratic 'playlist' and the military took over to establish a genuine 'Burmese' socialist politics that also failed when ideological and economic bankruptcy converged in 1988. The chaotic populist democracy movement that led to the collapse of the state apparatus and its single ruling party was short lived.
Direct military rule from 1988 to 2010 laid waste to the political landscape. The military replanted the political desert with its seed of 'disciplined democracy' in the form of the controversial 2008 Constitution. What we see now is the popular National League for Democracy (NLD) led by Aung San Suu Kyi rule, which is trying to replant the 'democracy' trees after uprooting those planted by the military junta. However, there are still strong weeds and lack of nourishing nutrients required to ensure that democracy takes root in Myanmar. Federalism seems to be the professed instrument to achieve political stability, peace, and national unity but the devil is in the details on what it means to whom among Myanmar's stakeholders.