2017 ICAS Book Prize in Korean : Book Talk Series 5
---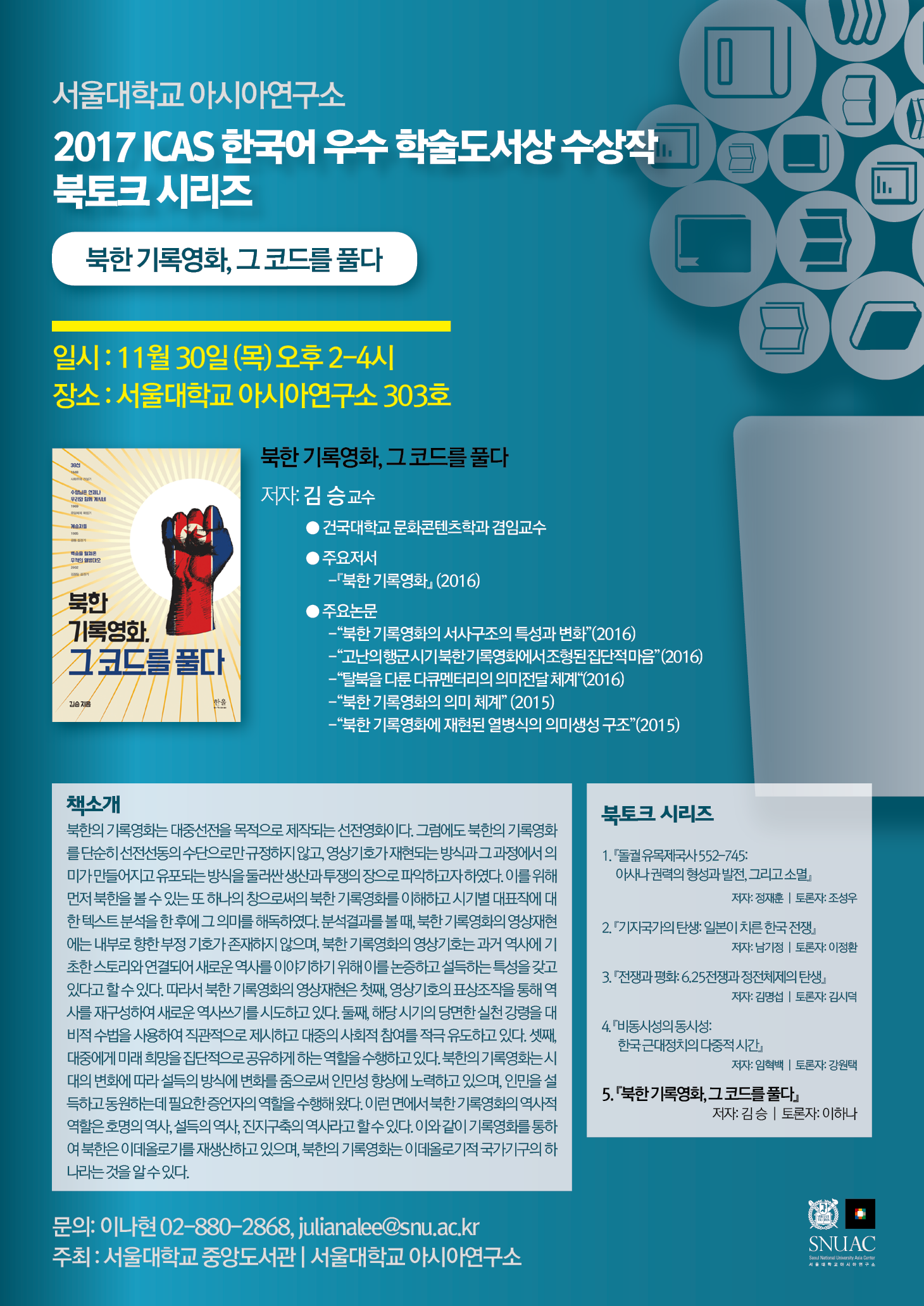 Date & Time: Thursday, 30 November, 14:00-16:00
Location: Room #303, SNUAC(Bldg#101)
Inquiry: Nahyun Lee / +82-2-880-2868 / julianalee@snu.ac.kr
Shortlisted for IBP 2017 Korean Language Edition
[The North Korean Documentary Films: Solving the Code], Seung Kim, HanulMPlus Inc., 2016.
Author : Seung Kim
● Affiliate professor, Dept. of Digital Culture & Contents, Konkuk University
Major Publications
-『The North Korean Documentary Films: Solving the Code』(2016)
– "The Characteristics and Changes in the Narrative Structure of North Korean Documentary Films" (2016)
– "Collective Minds Formed through North Korea`s Documentary Films during the Arduous March Period" (2016)
– "Meaning Communication System of Documentary on Escaping from North Korea" (2016)
– "Meaning System of North Korean Documentary Films" (2015)
– "A Semiotic Analysis of "The Invincible Parade Rank That Has Achieved Hundred Victories" (2015)
This book analyzes the unique features of North Korean documentary films using visual semiotics theories, decoding the messages of the North Korean regime. The author identifies the narrative structure of the films by applying semiotic methodology, reveals the meaning of visual symbols, and then proceeds with ideological analysis. For empirical analysis, he selects four representative films for each of four periods between 1946 and 2011, and examines how certain patterns of filmmaking embodied broader political and social contexts. Through this method, the author discovers the unique and consistent rules of documentary filmmaking in North Korea. As a good example of multidisciplinary research using new methods, this study reveals important aspects of North Korean regime, which has been difficult to capture with the conventional social science analysis. In particular, this analysis shows how the North Korean regime has maintained itself, not just through coercion and control, but also relying on non-coercive justification mechanisms. The narrative structure of North Korean documentary films is to protect the regime, in which the leader is the father at the center and the people are connected to him through blood ties. Film plays a critical role in maintaining the regime through the synchronization of consciousness. For this, various images and symbols are designed, edited, and organized. In terms of ideology, it is the excellence of socialist system and the legitimacy of hereditary succession that the films communicate to the people.