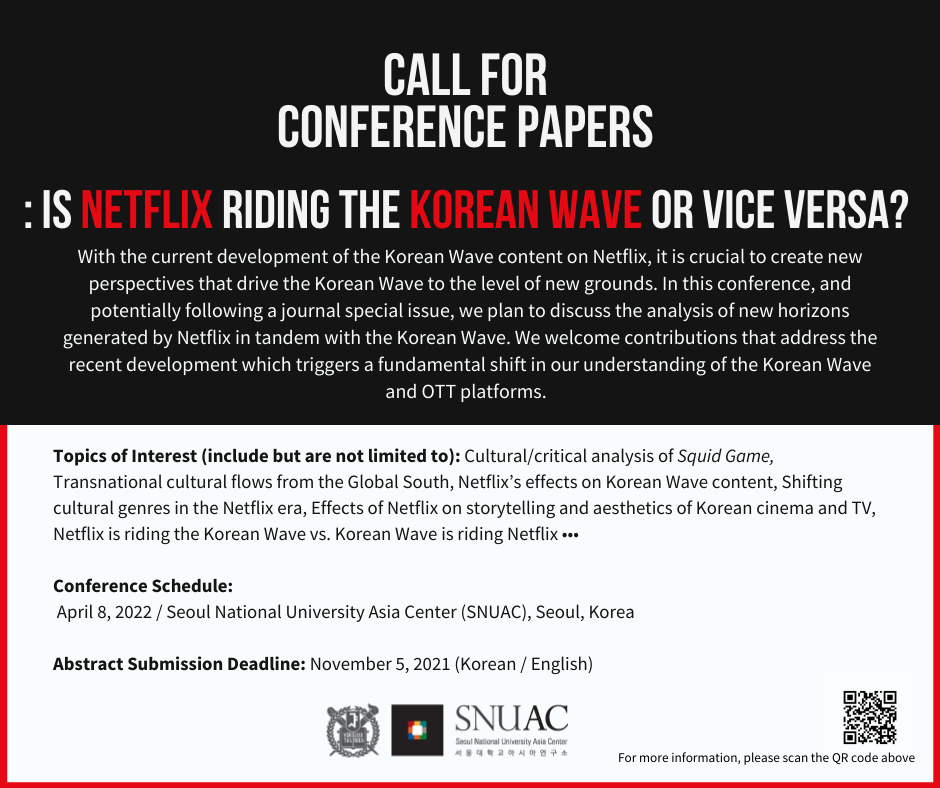 [공지] Call for Conference Papers: Is Netflix Riding the Korean Wave or Vice Versa?
In September 2021, Squid Game, which was produced in South Korea, made a global sensation. Upon release, this brutal nine-part survival drama quickly took the top spot in more than eighty countries, including the US. Squid Game is now on track to become the most successful Netflix original series of all time. Squid Game is the latest example of Korean cultural content, which Netflix distributes globally. Netflix already invested in several Korean cultural products, including Bong Joon-ho's Okja (2017), a fusion of benign monster films, action-comedy, and coming-of-age fable, and a historical epic Mr. Sunshine (2018). In 2019, Netflix released its first original Korean zombie drama series, Kingdom, which was set in the middle of the Chosun Dynasty, and followed by D.P. (2021), portraying the undesirable nature of the Korean military. Netflix has also circulated a number of Korean dramas and films, including Hometown Cha-Cha-Cha (2021), Space Sweepers (2021), Vagabond (2019), Crash Landing on You (2019), and Itaewon Class (2019) which have been popular among global audiences. As Korea has talented content creators and cultural products, from dramas to K-pop to film, which are globally popular amid the Korean Wave, Netflix continues to invest in the Korean cultural scene. Netflix is strategically shifting with the Korean Wave.
Netflix has undoubtedly shifted the ways in which people consume visual narratives, ranging from television dramas to full-length films tailored to global audiences. In so doing, Netflix has especially influenced the Korean entertainment industry. Up until now, most Korean dramas known overseas were in the romantic comedy genre. However, as Netflix has invested and is interested in various genres, including teen crime (e.g., Extracurricular), zombie (e.g., Kingdom), monster (e.g., Sweet Home), Sci-fi melodrama (e.g., My Holo Love), reality (e.g., Busted), and stand-up comedy (e.g., Yoo Byung Jae: Discomfort Zone), Korean creators also develop these unprecedented genres. Due to heavy impacts driven by Netflix as a global digital platform, Korean cultural creators re-orient their production norms to greet the new world that Netflix designs. This rapidly shifting media environment creates tensions between global and local OTTs, which are concerned about the decreasing role of the local cultural industry as well as the loss of cultural identity.
The current development of the Korean Wave content on Netflix asks scholars in various fields, such as media/cultural studies, film studies, area studies, sociology, and anthropology, to advance new theoretical and practical approaches in understanding Netflix's effect in the Korean context, which is becoming part of the global cultural sphere. It is crucial to create new perspectives that drive the Korean Wave to the level of new grounds. In this conference, and potentially following a journal special issue and/or edited volume, we plan to discuss the analysis of new horizons generated by Netflix in tandem with the Korean Wave. We welcome contributions that address the recent development which triggers a fundamental shift in our understanding of the Korean Wave and OTT platforms. What we plan to discuss as a group is the possibility of the advancement of non-Western theories and/or new theoretical perspectives in the midst of the continuation of the Korean Wave on Netflix. Throughout the discussions, we hope to shed light on current debates and place them in perspectives relevant to future transnational cultural studies.
Topics of interest include, but are not limited to:
Cultural/critical analysis of Squid Game
Transnational cultural flows from the Global South
Translation as a form of cultural flows
Netflix's effects on Korean Wave content
Shifting cultural genres in the Netflix era
Netflix audience research: methods and perspectives
Comparative studies of Netflix's original productions (e.g., Spain, Germany, Japan, and Korea)
Case studies of individual production companies and/or filmmakers before and after their cooperation with Netflix
Effects of Netflix on storytelling and aesthetics of Korean cinema and TV
Netflix is riding the Korean Wave vs. Korean Wave is riding Netflix
Critical Understanding of OTT platforms in the Korean cultural scene
Conference Details
1. Conference Schedule: date and place
Seoul National University Asia Center (SNUAC), Seoul, Korea. 8 April 2022
Due to COVID-19, we may consider a hybrid conference as well. The final decision will be made by early 2022.
2. Deadline
Abstracts should be written in English or Korean and should be submitted as PDF files. An abstract of no less than 300 words (600 characters in Korean) along with a 100-word scholarly bio should be submitted to Minjae Oh (mj0125aa@snu.ac.kr) by November 5, 2021. We will notify the accepted abstracts at the end of November 2021.
3. Outcomes
There will be two potential projects based on the conference. One will be a journal special issue. The other will be an edited volume. Since we plan to develop conference outcomes in two different academic publications in English, please be sure that we only accept original materials not published or scheduled elsewhere.
4. Conference supports
We may provide some benefits to the presenters, including registration fees and meals, and we are trying to find conference grants to support travel, although we cannot guarantee it at this point. Please directly contact Seok-Kyeong Hong at Seoul National University (skhong63@snu.ac.kr) or Dal Yong Jin at Simon Fraser University (yongjin23@gmail.com), if you have any questions.
Conference Organizers
Seok-Kyeong Hong (Seoul National University)
Dal Yong Jin (Simon Fraser University)
Sangjoon Lee (Nanyang Technological University)