The U.S.-China Conflict and Security Strategy for South Korea
---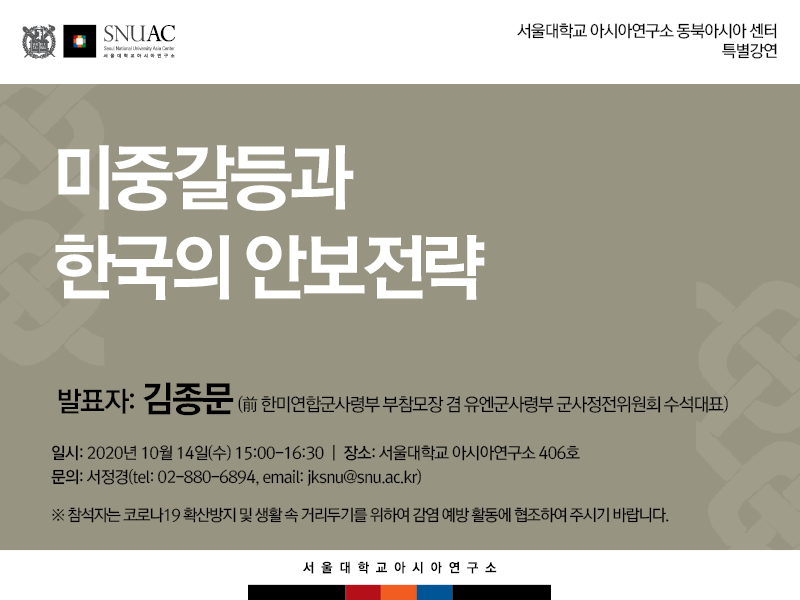 Date: October 14th, Wednesday, 2020 15:00 – 16:30
Location: Room 406, SNUAC (Bldg. 101)
---
As the Korean peace process unfolds with difficulty, the U.S.-China relationship appears to worsen overall. This causes a new challenge to Korea's foreign security environment. Thus SNUAC Northeast Asia Center is inviting a military expert to seek insight into Korea's desirable direction in security strategy and its way forward.
---
Speaker: Jong-moon Kim (Former UNCMAC senior member)
---
SNUAC Northeast Asia Center invited General Jong-moon Kim (Former UNCMAC senior member) and held a special lecture on "The U.S.-China Conflict and Security Strategy for South Korea", sponsored by the Program for Building the Basis of Unification at the Institute for Peace and Unification Studies, Seoul National University. As an expert on combined operations, tactics on North Korea, and global state security, General Kim suggested that Korea needs a systematic and flexible response in terms of security in the U.S.-China conflict.
General Kim analyzed the status of the U.S.-China conflict and the security views and strategies of the two countries based on his long-time experience of working in the U.S.-Korea joint operations and training and offered his opinion on the major aspects, current issues, and directions of Korean response that should be noted in Korea's security. As the U.S.-China conflict keeps proliferating in all directions including China's militarization of the South China Sea, trade conflicts, competition in data governance, and Hong Kong security law, the U.S. military security strategy is turning into a free and open Indo-Pacific concept and strengthening the local efforts of preparations, partnerships, and stronger local networks. General Kim forecasted that the U.S. would demand alliances in the region and expanding the roles and responsibilities of the allies. Also, he analyzed that China has changed its security strategy from concealing one's strengths and biding one's time to taking the initiative in political matters, conducting active and preemptive foreign strategies, and focuses on winning regional warfare under the conditions of informatization.  He especially explained the A2/AD strategy as a 'maritime military strategy' in detail, and explained the meaning and prospects of changes in the Chinese diplomacy and security strategies in relation to One Belt One Road.
The lecture noted on the possibility of economic friction and security conflict being amplified depending on the results of the U.S. presidential election, and raised the issues of wartime control, defense burden-sharing, training fields, and UNC, emphasizing the need to utilize the current resources and situations as well as possible and respond in a flexible and multifaceted way. After the lecture, the discussion continued on the changes in the security environment around the Korean peninsula and the recognition of risks in security. The event concluded with a comprehensive examination and direction-seeking for Korea's response in the U.S.-China conflict.