India in Asia: International Conference Commemorating 70 years of Independence of India
---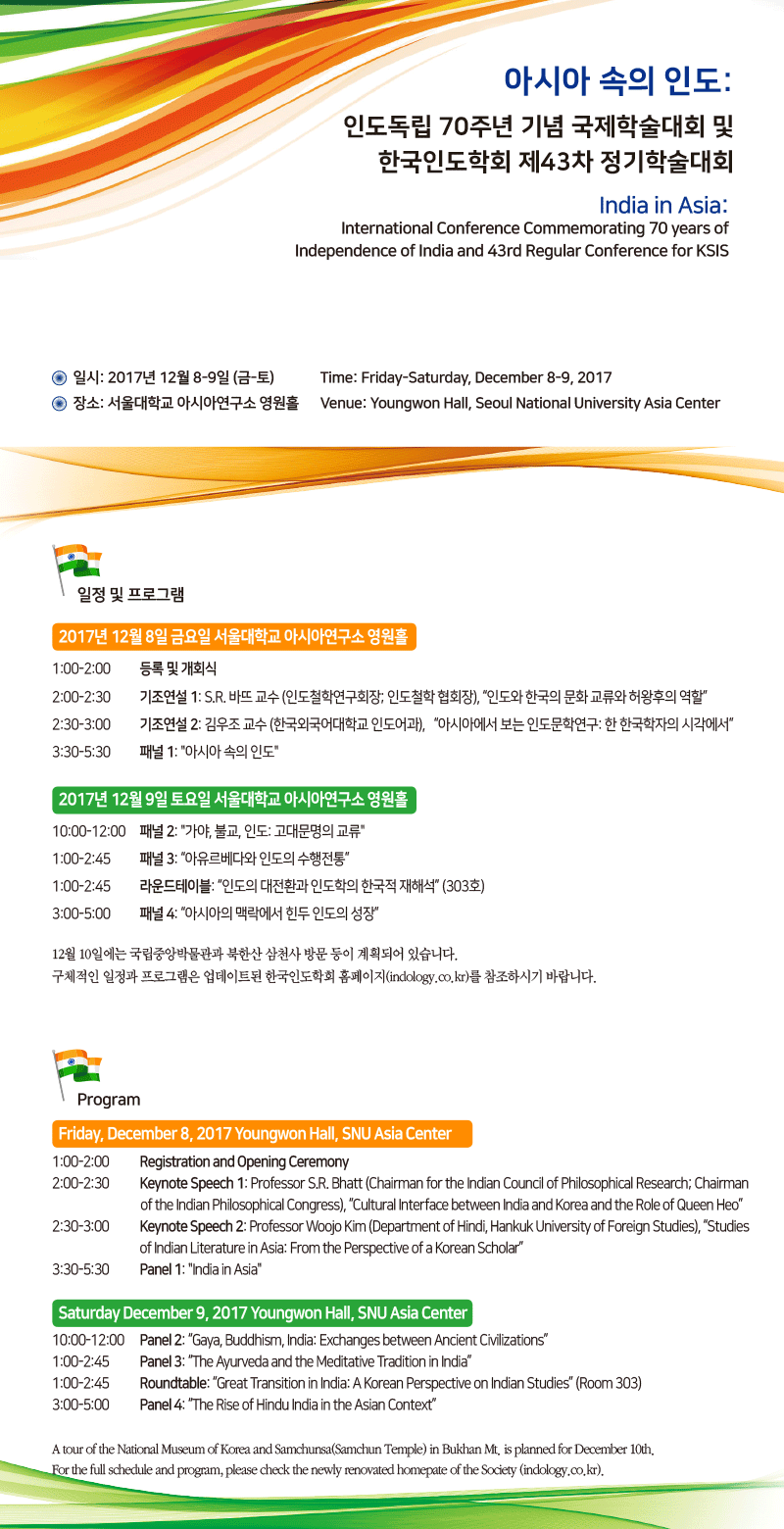 Dates: Friday-Saturday, 8-9 December, 2017
Venue: Youngwon Hall, SNUAC(Bldg#101)
Hosts: Korean Society for Indian Studies Inc., Indian Cultural Exchange Research Institute of Tongmyong University, Seoul National University Asia Center, World Naturopathic Medicine Forum Inc., Institute of Indian Studies, Hankuk University of Foreign Studies
Managing Institutions: Dept. of Asian Languages & Civilizations, Seoul National University
Sponsors: Indian Embassy, Seoul, National Research Foundation of Korea, Hyanggiroeun Donghaeng Inc., Haein Jeongsa
We kindly invite you to the international conference commemorating 70 years of independence of India. SNUAC will be co-hosting the conference 'India in Asia' with Korean Society for Indian Studies Inc., Indian Cultural Exchange Research Institute of Tongmyong University, World Naturopathic Medicine Forum Inc., Institute of Indian Studies, and Hankuk University of Foreign Studies. The conference will touch on India's role and its prospects related to Asian politics, society, religion, medicine, and tradition after the 1940s. There will also be in-depth discussions on the cultural exchanges between ancient India and Korea centering on Gaya Buddhism.  We encourage active participation from those who are interested in India, South Asia, and Korea-India relations.
Friday, 8 December, 2017, Youngwon Hall, SNUAC
1:00-2:00 Registration and Opening Ceremony
2:00-2:30 Keynote Speech 1:
Prof. S.R. Bhatt
(Chairman for the Indian Council of Philosophical Research; Chairman of the Indian Philosophical Congress)
"Cultural Interface between India and Korea and the Role of Queen Heo"
2:30-3:00 Keynote Speech 2:
Prof. Woojo Kim (Department of Hindi, Hankuk University of Foreign Studies)
"Studies of Indian Literature in Asia: From the Perspective of a Korean Scholar"
3:30-5:30 Panel 1: "India in Asia"
Saturday, 9 December, 2017, Youngwon Hall, SNUAC
10:00-12:00 Panel 2: "Gaya, Buddhism, India: Exchanges between Ancient Civilizations"
1:00-2:45 Panel 3: "The Ayurveda and the Meditative Tradition in India"
1:00-2:45 Roundtable: "Great Transition in India: A Korean Perspective on Indian Studies" (Room 303)
3:00-5:00 Panel 4: "The Rise of Hindu India in the Asian Context"
A tour of the National Museum of Korea and Samchunsa(Samchun Temple) in Bukhan Mt. is planned for December 10th. For the full schedule and program, please check the newly renovated homepate of the Society (indology.co.kr).
Please click to download the program=> Conference Invitation